EVERY STUDENT HAS A STORY: Andie Krug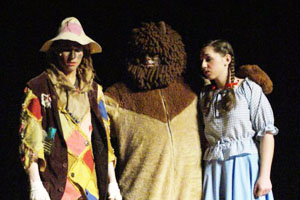 Angelina Krug, also known as Andy Krug, has a very busy high school life. She juggles singing, piano lessons, girl scouts and being the president of the junior class. Out of these many aspects of her life, she enjoys being in the musicals and plays at RB and being on the board for Girl Scouts.
This year unfortunately, RB will not be putting on a play or a musical. Krug has to turn to other hobbies until next year when hopefully the plays and musicals will be brought back.
Krug said, "Instead of the musicals this year, I am taking piano and voice lessons. I'm also entering some competitions."
Last year Krug was chosen to play Dorothy in RBs spring music The Wiz. This was Krug's first year in the school's theater productions.
Krug said, "The worst thing about RB this year is all the cuts that the board had to make. I had a lot of fun with the play and musical last year. I hope they come back next year so I have a great senior year."
While Krug is not working on her musical talent she is working with her Girl Scout troop. Out of almost one thousand Girl Scouts, Krug was chosen to receive one out of six spots to be on the Girl Scout board of directors. This board is the head of the Girl Scout Corporation and is a very big honor.
Krug said, "To be on the board of directors I had to apply, write essays and give them my resume. I also had to have an interview with the woman who is the head of Girl Scouts. The first thing we had to do was have a board meeting and had to decide how to raise money for the corporation."
From being in the musicals to being class president and even being chosen to be on the board for Girl Scouts, Andy Krug has a very exciting life outside of the classrooms at RB.
—
This feature is part of our "Every Student Has a Story" spotlight.  We believe every student at RB has an important story to tell, and we're committed to getting as many of them told as possible.  Look for new additions regularly.