EVERY STUDENT HAS A STORY: Katelyn Duffy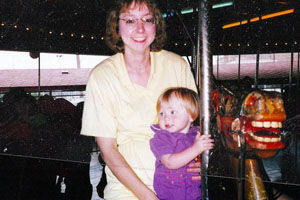 Sophomore Katelyn Duffy looks just like any ordinary girl. What you dont know is her story and what shes been through.
Katelyn's mom, Karyn, died at an early age of 46. She was diagnosed with esophageal cancer in November of 2009. Esophageal cancer is cancer of the esophagus and those who smoke are at a higher risk, though Karyn didn"t smoke.
"The doctors said it was from work stress, and because she had acid," Katelyn said.
When doctors found it, she was already at stage 3, and stage 4 is the worst case. She went through a couple more months living as happily as she could with her husband and two kids. She died on February 17, 2010.
Katelyn took her mother's death hard because they were so close, and decided to see a counselor. Instead of handling her pain by cutting, she found a different way: by writing poems. She has written over 20 poems in the course of a year.
"I just like to write whatevers on my mind!" said Katelyn.
Another option she used to cope with the pain was to start a foundation. Katelyn is now promoting the Karyn Kares foundation in honor of her mom. Karyn Kares is here to provide help for people suffering the effects of cancer. Whether they have cancer, know someone with cancer, or have had a loved one who died of cancer.
"Cancer and death is a very big thing. That is why I want to help. Counseling helps so much when faced with cancer. Karyn Kares will also research all types of cancers and try to find a cure for as many types of cancers as possible," said Katelyn.
So far Katelyn has planned that the foundation will raise money by selling T-shirts, collecting pop tops, having a run/walk, and car washes. "I do ask for people to donate, but another way to really help out is spread the word," said Katelyn.
The Karyn Kares group even spread to Facebook. Katelyn started a group and added all her friends. Eventually those friends added theirs, and now it ending up being almost 500 people. " We inform people about Karyn Kares and what we're all about." said Katelyn.
—
This feature is part of our "Every Student Has a Story" spotlight.  We believe every student at RB has an important story to tell, and we're committed to getting as many of them told as possible.  Look for new additions regularly.