EVERY STUDENT HAS A STORY: Tadas Varanecks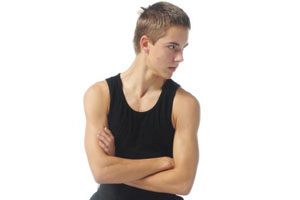 Although there are many great qualities to Tadas Varanecks, there is only really one word that describes him completely: dancer. Tadas lives to dance; it's what he looks forward to every day after school.
Almost every day, Tadas goes home from school for a quick stop before going to dance class. He puts in 16 hours a week training and 5 hours a week teaching dance to younger students. He is employed and apart of Beyond Words Dance Company. The company studies Ballet, Contemporary Dance, and Jazz Dance mainly, but sometimes they dance Improv. or Theater Dance.
To Tadas, putting in that many hours a week is always rewarding and not anything he regrets. "When I dance, time freezes because nothing else matters. All that is important is what I am feeling," he said.
When Tadas was little, he attended his older sister's dance recital and fell in love with the atmosphere of dance. "I just wanted to be on stage," he said. According to his mother, that is how his dance career got started.
In the 10 years that Tadas has been dancing, he has had many incredible experiences. Tadas has trained and danced with some of the top choreographers in the world and has been many places. Some choreographers he has trained with include: Mandy More, Benoit-Swan Pouffer, Mia Michaels, and Sonya Tayeh.
By far, Tadas's favorite dance memory was when he auditioned for the Broadway Musical Billy Elliot. He was in 8th grade at the time and still remembers every second of it. The tryouts were held in Chicago and Tadas was picked as one out of five boys who were called back to New York City. In New York City, the boys learned the entire play and auditioned for a week straight. Tadas was able to work with a speech coach to develop an Irish accent for the role and also took gymnastics lessons which Tadas described as "extremely hard." Unfortunately the director decided Tadas was too old for the part, but Tadas said, "It was so cool being so close to my dream of being on Broadway. It was just an incredible experience."
Another memory Tadas enjoyed was when he participated in an off Broadway show directed by Kate Jablonski. The show was title Beyond Words. He described this show and the audition for the Billy Elliot Musical as "the two biggest things I've done with my life."
Although dance is Tadas's life, he planes on pursuing a career in engineering at Ohio State University next year. Tadas's father is an engineer and his sister is an architect. "I want to go into engineering" he said, "But I never want to quit dancing."
—
This feature is part of our "Every Student Has a Story" spotlight.  We believe every student at RB has an important story to tell, and we're committed to getting as many of them told as possible.  Look for new additions regularly.