EVERY STUDENT HAS A STORY: Tyler Plunkett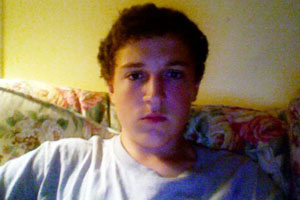 Tyler Plunkett, a junior at RB, is not one to have a fixed schedule. When asked why, he said, "I like having the openness to do whatever I want." He spends most of his time hanging out with friends and just going with the flow.
He does have some things that he is particularly interested in like watching the Sopranos, going to Paisan's, and skateboarding. Plunkett enjoys skateboarding the most. His friends got him interested in skateboarding last year. It's something they still do after school. Plunkett and his friends skateboard at Ehlert Park and sometimes on the street. Mostly, Plunkett likes doing flip tricks and is working on trying to do a hard flips.
During school, Plunkett is interested in his auto class. He likes the hands on work the class does with cars. His favorite type of car to work on is a Ford. He has been around a lot of Fords and he said Fords are the easiest to work on. Also at school, he enjoys time with his favorite teachers Mark Gouwens and Doug Schultz. As a student, Plunkett enjoys their laid back style.
Plunkett has high hopes for the future. He wants to attend University of Illinois in Urbana-Champagne or Western Illinois University. In college, Plunkett plans to study law enforcement with dreams of becoming a police officer. The most appealing thing about studying law enforcement to Plunkett is his attraction to guns.
Collecting coins is also an interest in Plunkett. When Plunkett was younger, he started collecting coins with the help of his mom. He said, "I liked the older ones, the little pieces of medal being hundreds of years old interested me." He still has the coins, but stopped collecting them a few years back. He just grew out of them. Currently they are just lying around the house. He plans on giving them away in the future.
Everybody has a story. It could be anything, for Plunkett it's a laid back life hanging with his friends with future hopes of being a police officer.
—
This feature is part of our "Every Student Has a Story" spotlight.  We believe every student at RB has an important story to tell, and we're committed to getting as many of them told as possible.  Look for new additions regularly.