EVERY STUDENT HAS A STORY: Clare Bollnow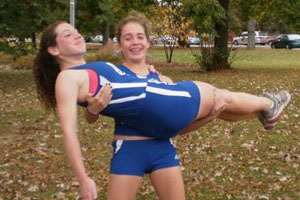 Sophomore Clare Bollnow, is the only child in a family of three; Her family consists of her Mom, Dad and two black labs. Bollnow has been volunteering at the Scottish home outside of school for about 4 months. She's also interested in the arts, focusing primarily in drawing and is even enrolled in the Graphic Arts course at RB, delving into this interest further.
Along with a growing hobby in the arts, Bollnow also was on the math team last year. She was excited to see it reinstatement and was worried when she heard it was up for cutting. "When we found out last year, we were really sad, especially because it was at the last moment." Bollnow said.
None the less, Bollnow is excited to be participating in the math this year. Math is her favorite subject here at the school. "I'm really looking forward to math club; it's going to be great to be back.
Bollnow also recently ran a half marathon (a thirteen mile race), for which she prepared for by doing winter running both at and outside of school. "I'm really glad we were able to do the winter running, it really helped me when it came to the half-marathon" said Bollnow.
Bollnow's multiple activities leave her with plenty of options for the future. She plans to go to college, but isn't quite sure where she wants to go or what she wants to study specifically. "There are just so many options to think of," Bollnow said on the topic of college. "I'm not even quite sure what I want to be, but I definitely want to go to college."
Whether it's in the math club solving equations, out on the track running, or swinging for home runs on the diamond, Bollnow is optimistic and ready for anything.
—
This feature is part of our "Every Student Has a Story" spotlight.  We believe every student at RB has an important story to tell, and we're committed to getting as many of them told as possible.  Look for new additions regularly.