EVERY STUDENT HAS A STORY: Emily Hastings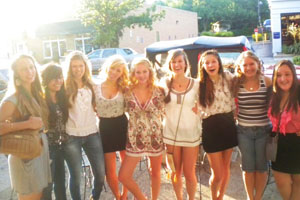 Junior Emily Hastings may look like just a typical student, but she juggles a social life, school, and sports. She started on little league team and worked her way up to travel teams when she was only eleven years old. Freshman year, she was placed on the RB's softball sophomore team but later advanced to the varsity team during playoffs and continued to play varsity all of her sophomore year. When she is not playing on the girls softball team at RB, she plays on travel teams and is currently playing for the Rockers.
Junior year has been going well for her, but it has been a bit challenging and different compared to her previous years at RB.
"There is definitely more responsibly this year, the teachers don't hold your hand to make sure you do your homework." said Hastings.
She said this year has been a lot more stressful compared to her other years at RB. She feels during freshman year she was trying to get used to the school and as the years go on, there is a lot more pressure.
She is very optimistic about her future. Colleges have showed interest in Hasting because of her extensive background of softball. She has sent in her transcript to colleges that showed curiosity her freshman year.
"I do feel that having experience with colleges earlier then everyone has given me an upper hand." said Hastings.
She has also has been taken honors since her sophomore year and has kept the goals she has had for her academics. She feels having honors classes helped prepare her for college and shows colleges you are willing to work hard.
She is interested in schools in the Midwest and is looking into majoring in psychology or graphic design.
"I haven't made a definite decision about where I'm going to college, but I'm just excited to graduate and start my life."
When she isn't working hard in school or playing softball she enjoys hanging out with her friends and family.
"My friends and family help keep me sane during this stressful time in my life. I appreciate all the support and love I receive from them, I'm thankful for the people I have in my life." said Hastings.
—
This feature is part of our "Every Student Has a Story" spotlight.  We believe every student at RB has an important story to tell, and we're committed to getting as many of them told as possible.  Look for new additions regularly.