EVERY STUDENT HAS A STORY: Kevin Arvisu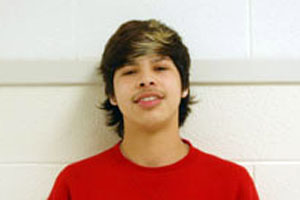 reshman Kevin Arvisu has been enjoying his time in high school. Arvisu hasn't felt the pressure yet. He is living life one day at a time. One thing that interested Arvisu was hair cutting. Arvisu wants to be a barber when he grows up. Since the age of seven years old, Arvisu knew he wanted to go into barbering, simply because he likes hair.
Arvisu said, "I learn by looking."
Arvisu watches people cut hair and learns by that. He has been cutting hair since he was little and loves every minute of it. When he thinks about college, which is a long ways ahead, he wants go to a good beautician school so he could start his own business.
Even though his dream job is being a barber, his parents and friends support him. He even cuts his friends hair.
Arvisu said, "My cousin who cuts hair inspired me."
Arvisu's cousin cuts hair from his home and has been doing it for years. Arvisu wants to do the same because he considers it easy money. If he were to work at a barber shop, half the money arvisu made would go to the shop, whereas if he did it at home, all the money would go to him.
Not only does Arvisu cut hair, he also dyes hair. Arvisu dyed part of his hair blonde just to try it out, and ended up liking it.
Arvisu said, "Next I want to dye my hair red."
—
This feature is part of our "Every Student Has a Story" spotlight.  We believe every student at RB has an important story to tell, and we're committed to getting as many of them told as possible.  Look for new additions regularly.