EVERY STUDENT HAS A STORY: Laura Pellizari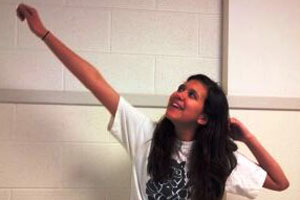 Laura Pellizzari, a sophomore at RB, is a very involved student. She is part of the Anime, Chess, and Eco Clubs. She is also on the badminton team in the spring. Now, as one could imagine, her day is quite busy. However, in her free time, when she isn't reading or doing puzzles, Pellizzari collects many things.
When asked what she collected, Pellizzari said, "I collect pins, coins, action figures, things I find outside, and old scary movies-I've been collecting for a couple of years. I once tried collecting festive napkins, but I only have one, so I guess that doesn't count."
It doesn't take much to start a collection. Pellizzari said, "You find something you like and say, 'Gee, wouldn't this be cool if I could get a bunch of these and put them in a group together?' and then you find some more. It's fun! It really doesn't take any skill and it's exciting when you find something."
Pellizzari first started her collection with influence from her family. Many of her family members have been collecting for a while. Some still have their collections, and some even have many collections just like Pellizzari. "I guess I really like collecting little things. I think it may even run in my family. My dad likes collecting coins and baseball cards, and my grandpa used to have a comic book collection, and he also collected books and records. My grandma collected buttons, and my sister collects shot glasses and nutcrackers," she said.
Out of everything that Pellizzari collects, the one that sticks out to her is a pin. "I have one pin-it's this dog pin with one eye- from my great aunt. I believe she left it in her will and it somehow came to belong to me. I was really young though so I don't really remember," she said.
A collection can last as long as a lifetime. Pellizzari doesn't know when exactly she'll stop collecting, but she plans on sharing her various collections when she decides it's time for collecting to come to an end. "I guess I'll keep collecting until I stop liking it. It will probably sit in my room for a while, and then when I move out, I'll bring it with and maybe leave some of it behind. Maybe I'll pass it on to the next generation someday! They will become ancient artifacts in a couple thousand years!"
—
This feature is part of our "Every Student Has a Story" spotlight.  We believe every student at RB has an important story to tell, and we're committed to getting as many of them told as possible.  Look for new additions regularly.