EVERY STUDENT HAS A STORY: Rebecca Fernandez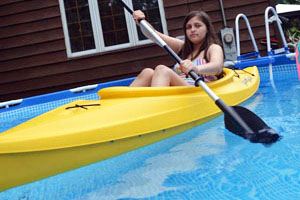 Freshman Rebecca Fernandez used to be a very shy, lonely person. She had few friends because she was an outcast. Fernandez attributed this to her weird personality and Goth style. She was also paranoid about what other people were saying about her. Anytime students would begin whispering, Fernandez would immediately assume that they were talking about her.
Fernandez did not begin to open up until she was enrolled in Mr. David Mason's Language Arts and Drama classes at Hauser Junior High School. Mason is also a history teacher and the director of the school's plays and musicals. Fernandez remembers him telling stories about his former career as a struggling actor working in Chicago. Mason's encouragement and guidance combined with inspiration from Fernandez's sister, propelled Fernandez to join the theatrical society at Hauser.
While at Hauser, Fernandez acted in multiple productions including: "Annie," "The Mummy," and "The Music Man." She has also performed at Oak Park's Circle Theatre. Through her involvement, Fernandez discovered that she is passionate about acting and directing.
She said, "Mr. Mason got me into drama, and I discovered I like being in control. I want to be a director, so I plan to take the 'Acting and Directing' class at RB."
Fernandez also learned to open herself up and not be afraid of failure. Once she opened herself up, Fernandez shed her paranoia and allowed herself to make a wonderful group of friends with whom she can share a passion and feel comfortable and important.
—
This feature is part of our "Every Student Has a Story" spotlight.  We believe every student at RB has an important story to tell, and we're committed to getting as many of them told as possible.  Look for new additions regularly.