Alum Erin Cunningham steps in for Bontrager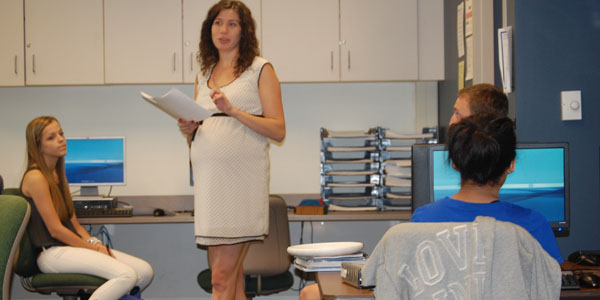 Anyone who has seen her since the year started knows Social Studies teacher Whitney Bontrager is pregnant and due very soon.  She is leaving September 28th through the rest of the year.  Filling in for her will be former RB graduate Erin Cunningham.
Cunningham graduated from RB in 2006.  She first attended Northwestern undecided, but thinking about a science major.  She studied abroad in France for a year teaching English; upon her return she attended Brown University in Rhode Island to obtain her Masters in teaching.
Looking for a job, Cunningham was interested in teaching in New England but found it to be a difficult search so she moved back to Illinois thinking it would be easier.  Social studies department chair John Beasley then contacted her and had her come in for an interview.
Cunningham said, "The building is completely different. There are new teachers and classrooms that didn't exist before."
The new building renovations started just as she was graduating.
---
"It's been difficult to break the habit and realize that I am now a colleague of my former teachers!"
– Erin Cunningham
---
Cunningham said, "My absolute favorite [memory] is when I would go with AST [Association of Students for Tolerance] to the British Home every week.  I loved being able to organize our visits and reach out to all of the student groups at RB.  Hanging out with the residents at the British Home once a week really made me feel like we were establishing genuine relationships with another generation.  I think it was a truly formative experience for me."
Cunningham is getting used to the challenges of once being a student at RB and now a teacher.  Struggling to call the teachers by their first names instead of their last is one of the obstacles she encounters.
Cunningham said, "It's been difficult to break the habit and realize that I am now a colleague of my former teachers!"
When she is done subbing at RB, Cunningham plans to find a full time social studies teaching position in the Chicago land area.