Looking back at Chess Club's trip to State (updated)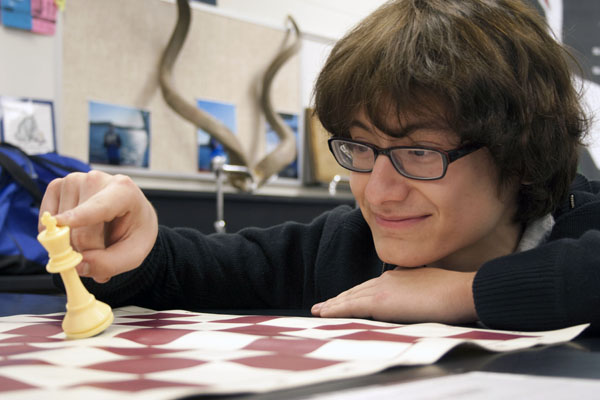 Nervous energy pulsed through senior Ralph Ruiz' veins. Looking up at his opponent, he felt his mind failing, yet suddenly a light bulb went off and the words "checkmate" were pronounced.
"Throughout all of state, I felt nervous. No matter what easy schools, nervous. There was always a chance to lose. And the tough schools, I was extremely nervous," he said.
This year, Chess Club participated at the State competition. RB's team placed  24 out of 135 teams. The competition took place in Peoria from February 8 to 9 with over 1500 students participating in the event including teams from all across Illinois.
Ruiz placed 4 out of 141 competitors on Board 5 at the tournament.
Junior Alex Buffo said, "I thought I played pretty well. The only time I lost was because my opponent was truly better."
Buffo individually also placed 24 out of 135 in his first time ever going to State. Buffo will also become the captain of next year's team.
Sophomore Joe Tan placed 28 out of approximately 180 students on board eight.  Unlike some of his teammates, Tan is not sad to see the seniors leave.
"It's time for them to graduate," he said.
After State, Tan was very hard on himself, noting that he felt upset and even very angry.  In contrast, many of his teammates noted that they were appreciative just to get the opportunity to be on the team.
Ruiz, for whom State was his last competition, said, "It was a lot of fun. I was just happy that I was on the team, because I saw all the fun they had going to Peoria, the bus ride down. It is exhilarating."
Lukas Kulbis, class of 2016, won five out of the seven games he played. He finished 23rd out 178.
Chris Detloff also placed well. Getting 16th out of around 200 others. He was on board number eight. He felt satisfied with how he played.
"Only when I was going against a really good team,was I nervous."
"We typically don't give up, even if it looks hopeless, we stick to what we believe, we can and can't do, and we follow through, and that is how most of our chess season has gone. We stuck in there and made sure we didn't look disappointed." said Ralph Ruiz, class of 2013.
Sponsor's Note:
A correction was added to this article to reflect how Ralph Ruiz did at the State tournament. D. Mancoff