Every Student Has a Story: Madi Hornung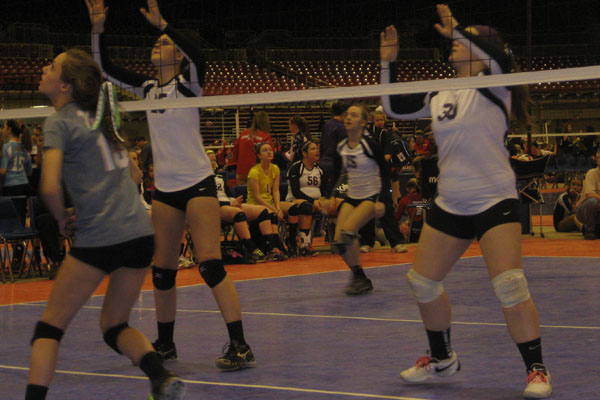 "Hustle and Heart set us apart."
Madi Hornung takes this motto from the RB volleyball team to heart when she plays.
A member of the class of 2017, Hornung made the sophomore volleyball team this year. As well as Hornung, Dana Rettke and Maria Gonzalez, also made the sophomore team.
"After the first day of tryouts (out of three) Coach Jenna Osburn wanted me to tryout for the sophomore team too," Hornung said.
Hornung started playing volleyball in fourth grade with Lions Junior Volleyball Team. Her mother, Janet Hornung played in high school, and encouraged Hornoug to try it out.
"I guess I just fell in love with it," she said.
Once getting to middle school, Hornung started to play on the school's team, at S E Gross Middle School. In sixth grade, she played up on the seventh grade team, then in seventh grade, she stayed on that team, and in eighth grade, she played on the eighth grade team.
She's played almost every position at the net since she first started playing volleyball.Her all time favorite position will always be outside hitter, which for offense, is a hitter and or a blocker, and for defense, is a passer. Hornoug plays all around now for the Riverside Brookfield volleyball team.
Although Hornung loves volleyball, she doesn't plan on going professional.
"It doesn't seem like a career would be that long if you went pro. One injury can make your whole career crumble," she said.
Even though she will not go professional,she does hope she will get the chance to play in college. Here dream college is Penn State University, but she also likes Illinois State.
The sophomore's first game was be September 3rd, against Nazareth Academy, which was away.