AP? Electives? How do seniors choose?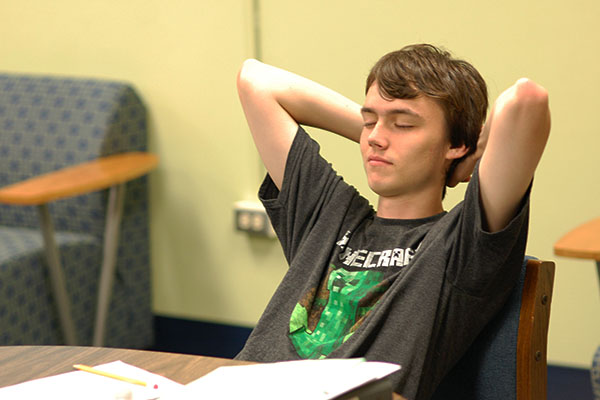 Challenging schedule, or blow-off classes?  The question has plagued high school seniors for years.  Do you challenge yourself with rigorous AP courses or, take a different route, and finish up your high school career with an array of electives?
For some students a stimulating schedule is imperative.
"I'm just trying to get prepared for college," senior Jordan Petronella said, "so I'm taking all these [tough] classes. I've had former RB students tell me that RB didn't really prepare them the best for college. You know essays and stuff like that. I'm taking all these AP classes just trying to get ahead of the game for college."
Students' class schedules have gradually gotten harder over the years. A recent poll by U.S. News & World Report states that 63 percent of students at RBHS enroll in AP courses.
For some however, senior year is all about kicking back and relaxing.
"Senior year should be a fun year," senior Joe Schmuggie said. "The number one goal is just to have a great time."
Although Schmuggie's top priority is having a great time, he has still made room for an AP course in his schedule.
Other students however, have found a good balance between a relatively lax class schedule and a good work ethic.
"I'm not taking any AP or Honors classes; I'm just taking regular, average classes,"  senior David Wackrow said, "but I'm still trying to push myself to get a B or an A. "
RB graduates like Paul Krause, (class of 2013), who have already been through the trials of senioritis, implore students to stay diligent throughout their senior year.
"My senior year schedule was fairly difficult. I took three AP classes along with a couple honors classes. Studying for the AP tests helped a lot for my preparations of test in college," Krause said," However lack of work ethic I had for homework [in high school] carried over into college. That is something I'm still trying to improve through my senior year."
Whether or not you're taking a plethora of APs, or a bunch of electives, it's imperative to enjoy your senior year of high school. After all, you only get one.