Every Student Has a Story: Sadly, RB isn't East High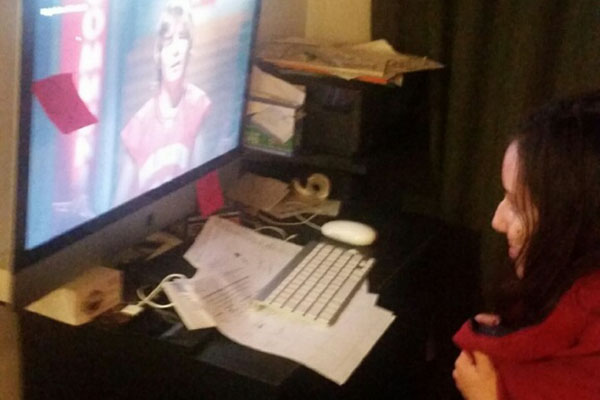 Sometimes art does not mirror reality.
For most students, Netflix has been the cause of senioritis, junioritis, and many more bouts of procrastination. Sophomore Shannon Wrzesinski is a fan of Netflix and chooses to watch a lot of How I Met Your Mother, American Horror Story, High School Musical (for the "thousandth time," she said) and Gossip Girl.
"Netflix is really great because it has a large variety of shows," Wrzesinski said. "You can literally watch a whole series in three days."
Wrzesinski's love of Netflix and her ability to stream shows has created a lot of interest in high school related shows and movies; and she hoped that RB would be like the wonderment of dancing and singing of High School Musical. Sadly, there is no synchronized dancing in the cafeteria.
"I love High School Musical," she said. "But, I was so disappointed that actual high school wasn't like that. It broke my heart."
The unrealistic scenes from HSM still stings for Wrzesinski. The array of "high school" shows and movies makes younger students excited for the glitz and glamour of high school, but not the realistic aspects of a place that prepares students for their futures.
"First of all, I expected them to play the songs from the soundtrack the first day or week of school and they didn't," she added. "Also, High School Musical was just an overall feel-good experience and nobody in those movies ever mentioned finals. Thanks for the warning, guys."
In addition to HSM, movies such as She's All That and 10 Things I Hate About You also depicted an inaccurate portrayal for Wrzesinski.
"They were the stereotype," she said. "I liked the movies, but they were far from accurate."
Though the movies show a staged version of high school, there are positive differences between reality and film.
"In movies, there are the different cliques and the two don't converse whatsoever," she said. "I thought high school would be like that, but it wasn't at all."
In HSM, the students struggle with being who they want to be and being in the group they want to be in. At RB, Wrzesinski does not see that problem.
"There isn't a fine line segregating the different groups of people," she said. "You can talk to anyone you want to. In High School Musical, they make a huge deal about the jocks being involved in theater and theater wasn't exactly seen as the cool thing to be involved in. But at RB, the musicals are great and the performers are admired for their talents."