Clarion's last minute holiday shopping guide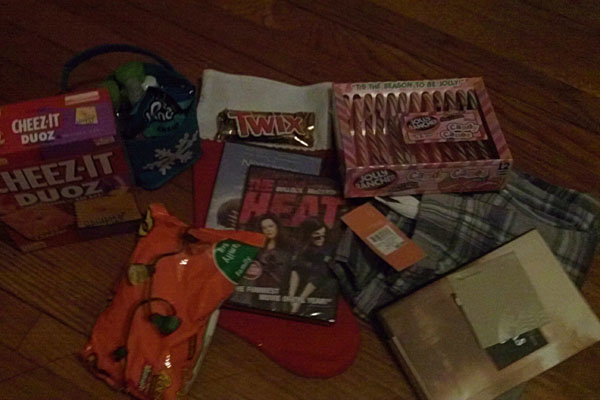 If you're anything like me, around the holidays, gifts are the last thing on your mind between sports, quarter projects, and finals. Maybe you had your gifts before Thanksgiving, but you suddenly have a Secret Santa you have to buy for. Have no worries, take at this guide and you'll find gifts for every budget and every friend & family member.
Mom:
Mom's never have time for themselves get your mom something that says go ahead have a day for you! You can't go wrong with pajamas, tea or coffee, Starbucks gift card, or a fuzzy robe. And a nice extra could be chocolate or another treat she likes. If she isn't into anything mentioned go with something that has to do with her hobbies, does she garden a lot? Or maybe she wants fancy cooking oils. Anything that says take sometime soon to just have fun or relax.
Dad:
Dads can be tough when it comes to gifts but don't be afraid to go practical. He says he needs a new belt, get him one. (Marshalls has great prices for belts.) Get him an Apple or Windows store gift card if he's into electronics. Get him a funny book or a coffee mug. Most Dads enjoy funny simple things that they don't just want but could use.
Older Brother/Sister:
An older brother or sister may be awful sometimes but if they're in college or high school they probably just got done with finals like you. Christmas is a time for them to come home and hang with you. Even if you only get them their favorite gum and some snacks for their dorm, it's a nice gesture. If you have a sister you can't go wrong with lip gloss, lotion, or a Forever 21 gift card. Older brothers probably adore food so you can't go wrong with a gift certificate to their favorite restaurant.
Little Brother/Sister:
Younger siblings can be annoying but it's still worth it to get them a little something. Candy and maybe a stuffed animal. Or a funny knick knack or small toy. Something little your parents wouldn't think of. Funny holiday T-shirts or themed snow globes are some other ideas.
Boyfriend/Girlfriend:
It can be scary getting your special someone a Christmas gift, and you don't want to disappoint! A stocking stuffed with their favorite goodies is an easy one. It can include cologne/ perfume, personalized T-shirts, their favorite candies, movies you guy saw together, books, mixed cd's,  anything that you know they'd love. Another great idea is the classic "get something you can do together" like tickets to a concert or play. As long as it's from the heart they'll adore it.
Grandparents:
Your grandma and grandpa might get a gift from your whole family but you might want to get them a little something from just you. Coffee mugs, Amazon gift cards, gardening tools, funny pictures of their grand kids, are just a few ideas to go with.
Best Friend/ Secret Santa:
Boys go first here because of two words: video games. Or some other nice gifts could be a season of their favorite television show, funny books, a gift card to target, or anything that suits your best guy. For girls bath and body works is a go to. (They have mini's three for twelve.) Starbucks giftcards, clothes, necklaces you know your bestie better than anyone.