Lights, Camera, Shenanigans!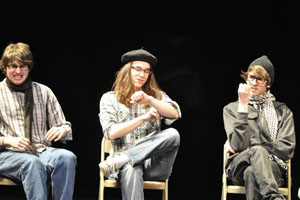 The Shenanigans are preparing for their biggest performance of the year. The Shenanigans are an improve group consisting of eager students who create humor and drama on the spot. The group has already performed two major shows last school year.
Director of the show, Melissa Briskman said, "The last two shows got us some major street cred."
However this year's first show will be bigger than ever. The show that they've been working on took hours of preparation from both students and sponser, Briskman. This will be special because this is Briskman's last performance for quite a while due to maternity leave. In addition, the group is starting the performance with a video clip which demonstrates their summer rehearsals. Their show will premiere on Friday, December 10th and Saturday, December 11th.
One of the improv cast member from last year, Jacob Palka said, "We lost some dynamite members to graduation, but we have casted new members."
Regardless of the loss new members have been added to the ensemble; Marty Gross and Allison Nicolai both practiced countless hours during improv club after losing star members such as Zeyne Guzeldereli and Olivia Toriumi.
The Shenanigans will be performing their "Welcome to My Tollbooth" in the Little Theatre at 7:00pm. Tickets are three dollars and can be purchased in the business office and during all lunches starting Friday, December 3rd.