A fairytale come true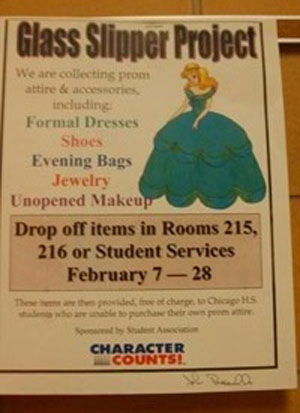 With the Turnabout dance and Prom just around the corner Student Association is starting up the Glass Slipper Project again. The Glass Slipper Project is a donation project collecting gently used dresses/formal attire, accessories, and unused make up. All donations are given to less fortunate Chicago high school students who are in need of attire for their dances.
This isn't the first year SA has been doing the project.  Angela Ziola, a sponsor of SA, started the project about 10 years ago after she heard about it on the news. Ziola said," It sounded like a great cause and such an easy project to run in a high school."
The citizenship that the project expresses is what keeps the school involved in the project each year. Julie Sinde, a member of Student Association, said, "It is an easy way to help others and seeing the expression on the faces of the girls is worth it."
Last year the projects received eighty dresses and were proud with the outcome. Nevertheless, this year they hope to exceed last year's donations.  Every year since it started they have received dresses and accessories, so they will continue to do the project as long as there are dresses to be donated.
Allison Hornung, the President of Student Association, said, "The Glass Slipper Project is a great way for SA to help out in the community."
Flyers about the project are posted all around the school. The written deadline is Monday February 28, 2011. SA will still be taking donations after their written deadline of there are dresses still to be donated.