Adjusted calendar gives early head start to the year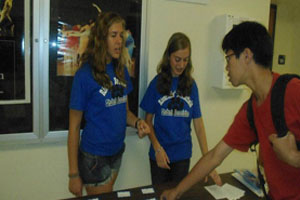 This year, school resumed on Wednesday, August 17, the earliest start date in years. Graduation will also be correspondingly early, taking place on Friday, May 25.
These changes were made in order to balance the number of days in each semester, while still having finals before Winter Break. In addition to this, the school needed to catch up on days lost from the construction to the school.
"Obviously the cons are a shorter summer. The pros are that kids can get a jump start on summer jobs," said Assistant Principal John Passarella, "I've never seen a graduation so early in my nine years working here."
The decision to switch to this new calendar was ultimately made by the school board, yet recommendations for the plan were made by the Teacher's Union, administration, and feeder schools.
"We had no choice. I didn't like coming back early. It put a rush on things," said Passarella.
However, the graduation date may conflict with other events. The Advanced Placement late testing dates are on the same days as Finals (May 23-25).
These calendar changes may also interfere with sporting events. Graduation and the Boys Track and Boys Tennis state final meets all take place on the same date. Girls Soccer Sectionals and Boys Volleyball Sectional Semi-Finals also conflict with graduation. These issues are currently under review by the board.
"It's being looked at and reviewed by the board to see if anything can be changed," said Passarella.
The earlier start and release dates have been met with a variety of outlooks from students. Senior Tatiana Reaves said, "I think it's a good thing. For seniors, you get out even earlier. For everyone else, the second semester is shorter."
"Although it's nice getting out so early at the end of the school year, I really needed that extra week and a half of summer," said sophomore Kristin Tomecek.
"I don't like it," said sophomore Lily Lisle, "It made our summer really short. But I do like that we are having finals before winter break."
Overall, teachers and staff share the attitude of students. Though many are disappointed over the shorter summer, they can still look forward to an earlier release date. "This summer was tough, but overall, I think it was a good thing. There's nothing like getting out early and having a nice long summer," said Social Studies teacher Kevin Turk.
These changes to the calendar, however, may not be permanent. The school could revert back to its approximate original start and release dates after this year.
 "We should get back into a set schedule as we move forward," said Passarella.