APES students care for school of trout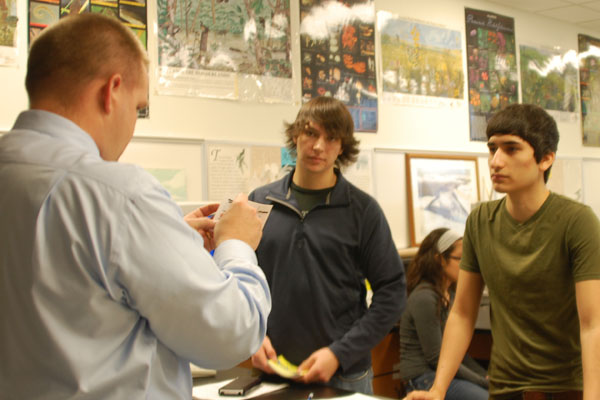 Hang on for a minute...we're trying to find some more stories you might like.

This year, AP Environmental Science teacher Jame Holt has an extra school in his classroom. A school of Brown trout, that is. From the end of November until the end of April, Holt will be caring for about 130 trout in a tank in his classroom.
 "I just thought that it would be a neat way for students to see the initial life stages," Holt said. He added, "There is also a big connection with environmental studies."
Trout in particular need to have clean, cold water to live, and there are very few acceptable streams left in Illinois. Because the water in the fish tank has to be equally clean, Holt can incorporate many water quality tests into his classes, as well as discussions about stream ecosystems and people's impact on their environment.
The trout are part of a program called "Trout in the Classroom." Working with the organization Trout Unlimited, schools can obtain brown trout eggs from the Illinois Department of Natural Resources. They will care for the fish until they are about a fingerling (3 in.) in length, and then the fish will be released into an appropriate stream.
Ironically, brown trout are not originally native to Illinois. The native species is brook trout, but there are virtually none left in Illinois streams. Historically, when the IDNR surveyed Illinois streams, they found plenty of brown trout and no brook trout. Now brown trout are recognized as an Illinois species, and are a part of the Trout Unlimited stocking program.
This is the second year Holt has been a part of this program. Last year, because too much food was put in the tank, a number of the fish died. The rest were released by another school when RB's SEE Team was not available to participate in the release.
 "Last year we had information that was off just a little bit," Holt said. This year, however, Holt has the proper instructions and hopes to keep more of the fish alive.
This year, Holt is hoping to take RB students on a field trip to release the trout. "We would like to do a release," Holt said, "we're just not sure with AP classes and AP exams around that time."
Over winter break, Holt and a number of other science teachers will feed the trout.
The project has a positive response from the students involved.
"I think it's really fantastic because we're really trying to improve the ecosystem around us," said senior Tomas Menchaca, who also participated on SEE Team during his freshman year, "It's good that someone is trying to make an attempt and that's Mr. Holt."
About the Writer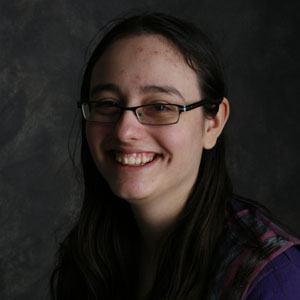 Kate Alaks, Opinion Editor

Kate Alaks is actually from the 60's. As a child, she fell through a wormhole in time and space and ended up in the 21st century. As such, she is not very good with 21st century technology. She also frequently obsesses about the Beatles, Doctor Who (she really likes both the old series and the new series), Star Trek, Godzilla, and numerous other things with origins in or near the sixties. Even though, happily, most of these have been revived to some extent in today's culture, she still misses the cheesy special effects of the good old days. On the plus side, she got to grow up with Blue's Clues and the Magic School Bus.
While waiting for the Doctor to come and straighten out her timeline, Kate (aka Kadet Marshmallow) is now a senior, and is reprising her role as Clarion's Opinion Editor. She is planning to continue her Freakonomics-style column, For What It's Worth. Besides Clarion, Kate is in Eco Club, GSA, and NHS, and is a black belt in TaeKwon-Do. She spends her precious free time compulsively writing, watching Star Trek, quoting things randomly, and stressing out about applying for colleges.
You can email Kate at [email protected]