Abe Lincoln reading program nets Cabaj $500 award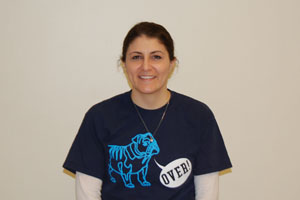 On January 18th, teacher Allison Cabaj won the M.A.E. award. M.A.E. stands for the Margaret A. Edwards Award. This award was a nationwide award.  Cabaj was one of many to send in an application. There were many applications sent in from other librarians from all over the United States.
"I didn't think I had a chance to win," Cabaj said, "but I was very excited and very shocked when I realized I had won."
Cabaj said Librarian Alicia Duell urged her to send the application, with high hopes that Cabaj would win. A few weeks later Cabaj got an e-mail informing her that she had won.
"The first time I read the e-mail, I was confused," Cabaj said. "But finally, at the end of the e-mail, it said the winner was Allison Cabaj."
In order to be eligible for the award, a person must complete an application including a rationale for the program, as well as multiple documentation of the program.  These include photographs, news stories, and items of communication, evidence of a presence on the web, displays, and public relations advertisements.
The winner of the award received five hundred dollars. Cabaj is using that money to bring in M.T. Anderson, the author of the book feed, to speak to RB students.