AP Spanish and RBTV team up to create news program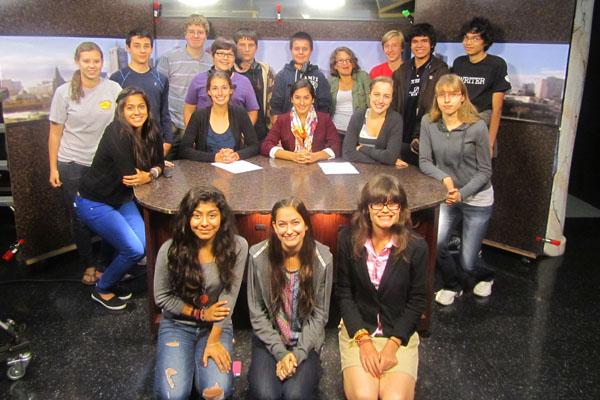 Earlier in the school year, Jessica Mauritzen's AP Spanish Class and Gary Proke's RBTV Crew collaborated on a mock news program. It was very smiliar to the school's own news program, except everything was in Spanish. Topics within the programs include school news, as well as local news from the communties surrounding RBHS.
The idea for the project came from none other than RBTV Head Gary Prokes. "Mr. Prokes came up with the idea of the collaboration," Spanish teacher Jessica Mauritzen said. "He is always thinking of new ideas."
The project was extremely successful as both teams worked together exceptionally well. "Mr. Prokes and his team were fantastic and it was really a great experience for the kids to use Spanish and have it seen beyond our classroom." Mauritzen said.
Both sides worked extremely hard and the AP Spanish students also seemed to enjoy the project .
"I think they enjoyed the project. Each show's team had to write, rehearse, produce, edit and organize their own show," Mauritzen said. "I think making a product that would actually be shown on air was harder than they initially realized. They had to count on all of their team members to pull their own weight and help strengthen the group."
Since it went so successfully they're deciding to join forces again and create a mock Spanish Soap Opera that will air sometime in the spring.
"While we don't quite have a plot for the soap opera it will probably include some important point from each of the stories we have read so far in AP Spanish that include betrayal, death, drowning, family issues, mystery creatures and more," said Mauritzen.
In addition to the upcoming soap opera, both classes hope to be teaming up for another newscast "Hopefully we will have another news show second semester with different anchors," Mauritzen said.
Obviously, much more is to come for these two very creative classes. Stay tuned to RBTV for the latest!