RB's own in attendance at Obama's inauguration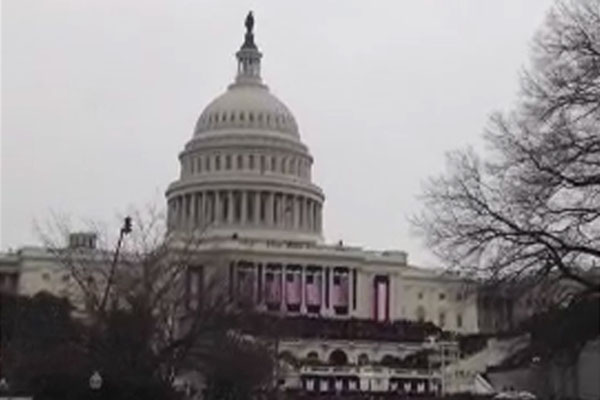 Never mind Beyoncé and Jay-Z.  Two of RB's own superstars were in Washington D.C. and present for the 57th Presidential Inauguration in our nation's history.
Teachers Kathleen Harsy and John Fields, accompanied by several family members, were in the nation's capital on January 21 and in attendance at the Capitol building. It turned out that President Obama was not the only superstar that Harsy and Fields ran into during their wild weekend out east.
After a Sunday morning departure, the group arrived in D.C. and soon made their way to the Cosmos Club where they spent the evening. The Cosmos Club is a highly decorated social club for those who are distinguished in science, literature and the arts. Harsy's parents, who are members at a similar club, The Cliff Dwellers Club located in Chicago, were granted reciprocity and the opportunity to stay the evening as guests at the club.
Coincidently, world renowned author and political activist Elie Wiesel was also staying at the Cosmos Club, as Harsy discovered soon after she arrived.  Every freshman at RB reads Wiesel's seminal memoir Night.  Harsy left Wiesel a note and left it at the front desk but has yet to hear back from him.
Harsy and Field were able to attend the inauguration after they received tickets from Illinois Senator Mark Kirk's office.  Attending the inauguration, however, was neither Harsy nor Field's idea.
"This was actually my dad's idea," said Harsy.  "It was on his 'Bucket List' of things to do."
Although he was not the mastermind behind this historic weekend, Fields, who teaches Social Studies, did enjoy the experience simply due to the fact that what he teaches in class was something he was able to see first-hand.
"I teach history, so I'm a president geek. Seeing any inauguration for me is historic and I really liked how formal and respectful everyone was," said Fields.
The tickets they received, which they picked up in D.C., were for the Orange gate. This section was the first allotted area without seats, but standing for five hours did not deter the group from having a wonderful time.
President Obama, accompanied by first lady Michelle and his two daughters, Malia and Sasha, swore on two Bibles during the Inauguration. The first was the 'Lincoln Bible' which was donated by the Lincoln family to the Library of Congress, with the second belonging to the late Martin Luther King, Jr, on the same day that we celebrate his life's work.
Some of the entertainment on the cold, wispy Monday morning included songs from James Taylor, Kelly Clarkson, Beyonce and the Tabernacle Choir.
The swearing in of President Obama was a historic event in our nation's history when it happened four years ago, and his second inauguration was no different. This event is one that many countries do not have the opportunities to experience, and in Harsy's opinion, it should be an event to unite us all as a country.
"The best part of the day was idea that both party lines are put aside. It is meant to be a celebration of moving forward," said Harsy.