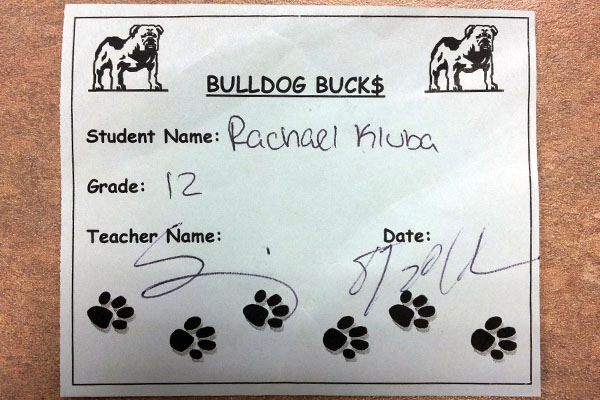 At the beginning of the 2012-2013 school year, RB's Positive Behavior System (PBS) Committee introduced a new concept to promote the six pillars of Character Counts: Bulldog Bucks. These blue slips were meant to represent acknowledgement given students who displayed actions representing one of the six pillars.  At this point, RB students know what they are, but where have they gone?
Bulldog Bucks were like a new wide-spread fad at the beginning of the school year, with students trying to be their best to get the best and the staff enjoying the outcome. Bulldog Bucks allow you to collect and cash in your bucks to be a part of a raffle.  Prizes included items like a pizza party, prom tickets, or parking passes.
Assistant Principal John Passarella understands that it can be hard to sustain momentum for something like Bulldog Bucks.
"We are in a kind of a valley right now.  It has petered off.  The energy of everything goes away, and you lose the value of it and take it for granted," he said.
The first few weeks to a month after a break are rough, making it hard to find time for things such as Bulldog Bucks.
"It is that time of the year," said Brennan Denny, Committee Chair of Data for PBS.
Still, even if the buzz seems to have worn off, students and staff still seem to be participating steadily.
"The amount [of bucks] that are in the locker are similar to first semester," said counselor and PBS committee member Renee Thomas.
Passarella, whose office recently completed a report looking at disciplinary trends over the last three years at RB, understands that positive behavior interventions can be important for reducing disciplinary issues in school.
"We all make mistakes.  I make them every day, but the key is to not make them again. This is our way of saying nice job.  This is for the kid who does something beyond their responsibilities," he said.
Passarella appreciates that the Bulldog Bucks foster positive relationships between students and staff.
"It gives us as a staff an opportunity to acknowledge your positive responses to those six pillars," he said.
The PBS committee will give a survey towards the end of the year to find out whether or not Bulldog Bucks are a benefit to the Bulldog society or if they are just a means to an end.
"The goal of the survey is to identify what students' impressions on it are," said Denny.