Author Daniel Quinn speaks to SEE Team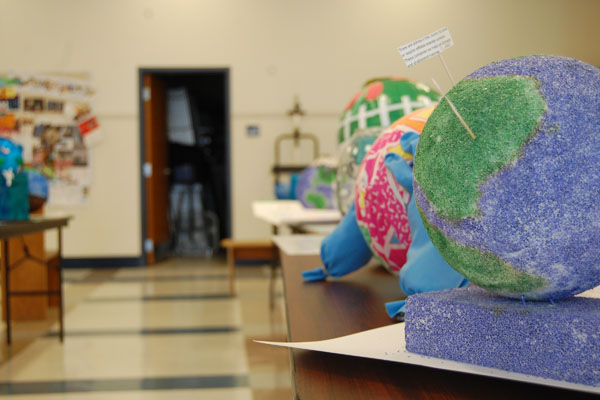 While SEE Team English teacher Dan Mancoff has taught the novel Ishmael annually to his students for several years, this year he had a little extra assistance in reinforcing his lesson.
This year, the novel's author Daniel Quinn conversed with all of Mancoff's English classes via an online conference call.  Students seemed to enjoy the event and find it fascinating in its own right.
"It was worth it and definitely kind of interesting," student Mark Travis said.
The interview did leave some students wanting more.
"I think it should be done every year," student Jimmy Skiest said, "because [Quinn] didn't answer all of the questions peopleh ad."
Mancoff got the idea of having Quinn speak to his students from an event that happened two years ago at RB.
"[Author of feed] MT Anderson sparked the idea in me," Mancoff said.
Two years ago, Anderson visited RB and spoke to the entire freshman class.  That year, the entire class had read his novel feed as a core text.
"I thought about how awesome it was for students to have a chance to interview and talk with an author," Mancoff said.
Mancoff discovered that Quinn was willing to converse with his students through social media.  He initially saw a Twitter post of Quinn's that encouraged him to contact the author.
"When I had an opportunity to reach out to the author, it was the perfect book to do it with," Mancoff said.
While Mancoff himself enjoyed the chance to speak to Quinn, his primary enjoyment was watching his students talk with the author.
"The point was to have the student interaction," Mancoff said.  "I really appreciated when my students engaged him in dialogue."
Students asked Quinn questions about the environment, the organization of the modern social order, and about "mother culture."  Mother Culture, a concept in Quinn's novel, defines the voice of the civilization in which people find themselves.
Mancoff's favorite question, though, was when his student Jill Lojas asked Quinn, "Why do you do this?  Talking to us, I mean."
For both Mancoff and Quinn, it's about teaching and shaping the world.
"I would do this every day," Quinn told Lojas.