Filling up from a fountain of hope
Class gift has a green mindset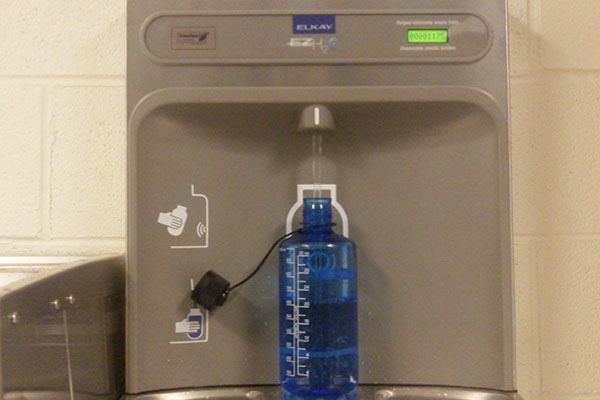 To quote Derek Zoolander: "Moisture is the essence of wetness, and wetness is the essence of beauty." RB has a chance to spread more moisture and therefore beauty with the addition of six new water bottle fillers.
The water bottle fillers were the class of 2014's class gift. The fillers cost anywhere from 800 to 1000 dollars, and Class of 2014 Class President Mike Tardi hoped to spread eco-friendly and healthier behaviors by making this a class gift.
"There was some left over money from our class so it is possible that the school can purchase more water bottle fillers," Tardi said.
On each of these water bottle fillers, which are located on both floors, there is a marker that indicates how many plastic water bottles have been saved due to students using reusable bottles. This is a very eco-friendly addition to RB. As of now, at least 5,510 plastic water bottles have been saved.
In addition to the eco-friendly aspect, the fillers encourage students to drink more water at school, because it is easier to fill up water bottles with the filler rather than using the regular fountain, and more water can be put in the bottle. With quicker access to water, fewer students will be drinking pop and sugary drinks, sources of empty, unhealthy calories.
Both teachers and students alike enjoy this new addition to RB.
"I love the new water bottle fillers, and wish we had more of them," SEE Team teacher Jame Holt said.  "It's a good way to cut down on plastic waste, encourage kids to bring reusable water bottles, and encourage more water consumption with the kids."