Homecoming means magical night for students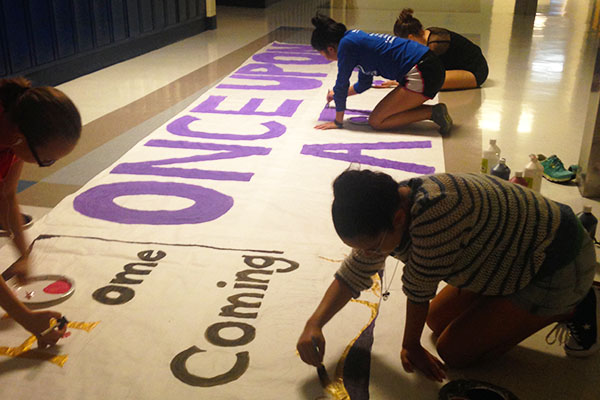 The annual Homecoming Dance will be held a little earlier than the school's usual mid-October date this year; the dance will take place on the night of September 20th from 7 to 10 pm in the RB main gymnasium.
Due to the early date, Student Association has already announced that the theme of the 2014-15 Homecoming Dance will be "Once Upon A Time."
SA member Austeja Staneviciute said, "The theme will be more centered around different kinds of Disney movies, something like princesses but also movies such as Monsters Inc. and Toy Story."
As word spread, students around the school reacted to the unveiling of this year's theme.
Senior Tricia Scalise wasn't too excited about this theme. "I just feel like this isn't a good theme for a high school dance. I personally liked the past homecoming themes, like 'Light Up the Night' and 'Romecoming,' because it seems more appropriate for high school students," she said.
But sophomore Erin Rookus thought otherwise. "Since I haven't experienced an RB homecoming, the Disney theme seems like a very good and fun idea. I think students will enjoy the child-like theme,"she said.
During all lunches on September 4, Seniors received the Homecoming Top 10 Ballot and had a chance to vote for the top candidates for Homecoming Court.
Spirit Week is another highly anticipated event. From September 15-19, students will look forward to dressing to the themes set for each day.
Those themes include:
Monday:  Pajamas
Tuesday:  Tie Dye
Wednesday:  Western
Thursday:  "Once Upon A Time"
Friday:  Crazy Blue and White
Following the shortened classes on Friday, September 19, the annual Pep Rally will occur. This is where the Homecoming Court is introduced, students participate in games and school spirit is in the air.  The rally will be followed by the Homecoming football game and then the dance.