Switching to Schoology
Tool promotes use of computers for school work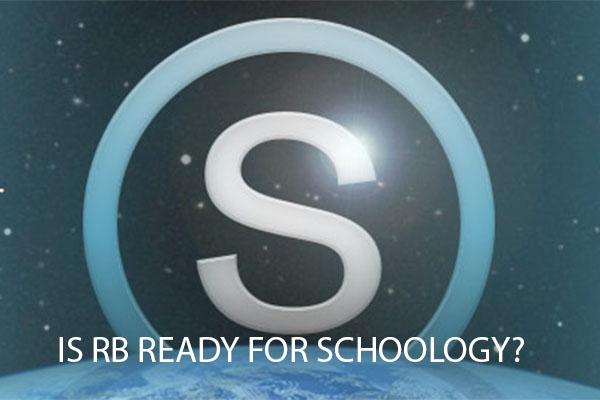 This year, teachers and students have the option to use Schoology, a learning management system (LMS) which allows teachers to create a virtual classroom for students.  They can post assignments and check data to make sure students are understanding the material.  Students can complete assignments in Schoology, have online discussions with other students, and even take tests and quizzes over the Internet.
Instructional technology coordinator, Bridget Wilmot, is the head of the Schoology program at RB.
"I help teachers find and use the best technology tools to enhance learning, and support students in learning new technology and becoming better digital citizens," Wilmot said
According to Wilmot, district leadership wants RB to become a one to one school. This means that every student will have have some sort of computer. Schoology is the first step to this because students will be using technology that prepares them for computers in the future.
"[Students] are so technologically proficient that they can look at the website and figure out how to use it," Wilmot said.
Senior Julia Roedel, doesn't have much experience with schoology. According to Roedel most students don't have much experience with Schoology either. Roedel thinks students should have better training for schoology so they know how to use it.
To make sure that students know how to use the web site there was a orientation for the freshman at the beginning of the year. Next year, Wilmot expects to have an orientation for the whole school.
According to Wilmot, many LMS's were tested and reviewed by teachers. From there, Wilmot and the school's technology team, after surveying students and staff, narrowed it down to two systems: Schoology and Haiku. A lot of other schools had success using Schoology, so it ended up being the better option for RB.
Teachers can put up assignments up on schoology for students to see and use. Roedel sees this as a major advantage of schoology. So far, Roedel has used Schoology for an APES project, and was able to work on the project on Schoology.
Even though this is RB's first year using schoology, Roedel can already notice some flaws in the program.
"If someone didn't have any Internet connection, that would be a problem" Roedel said.
Wilmot understands the drawbacks to using Schoology.
"There will be some adjustments that students will have to make. It is something new, and there will be some changes to the way students learn material," Wilmost said. Wilmot thinks that most students at RB are able to use schoology, but if they have any questions students should go to the library to ask for help.
Roedel's overall opinion of schoology?
"It's the right concept, but it's not the right tool for RB," she said.
Spanish teacher, Jenna Osburn, uses Schoology to post homework, songs of the week, chapter vocab, important documents for students, and links to online resources. Osburn regulary updates Schoology, usually with homework assignments.
"Schoology will keep teachers and students more organized. Of course, there are always drawbacks. Students might not have access to Schoology, but the benefits totally outweigh the drawbacks," Osburn said.
Even though Schoology is new to RB, it's just the beginning of the merging of academics and technology.
Correction:
This story has been corrected to reflect the fact that the decision to select Schoology over Haiku as an LMS was a collective decision made by multiple parties. -D. Mancoff