AST to host Tolerance Week
The Association of Students for Tolerance have decided to sponsor a spirit week to highlight RB classes, sports, activities and more.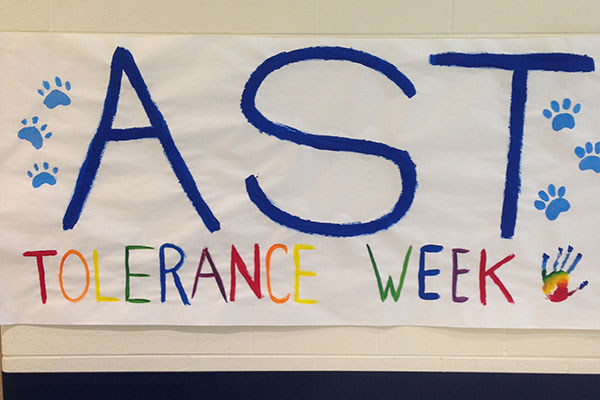 From March 16-20, the Association of Students for Tolerance (AST) will be hosting the first annual Tolerance Week. During Tolerance Week, AST hopes to promote other school activities, celebrate the diversity of RB students, create a partnership within the building between AST and other activities, celebrate AST and what it stands for, and have a Spirit Week—with a purpose.
Before Tolerance Week can actually begin, AST will be having sign ups for the Cantata service project also. The service project will be  Saturday, March 21 from nine to approximately 11:30 AM.  Volunteers will sign up to either go visit the residents in the healthcare unit of Cantata to do activities with the residents while others outside will do basic landscaping on Cantata's property.
During Tolerance Week, each day will have its own theme with corresponding activities in the lunchroom.
Monday, March 16: RB has class.
Celebrate the various classes we have in the building from our publications to fine arts, and more.
Tuesday, March 17: RB has game.
With our award winning athletes, we have to appreciate the sports we have. Wear your athletic gear to show your support.
Wednesday, March 18: RB wears pink
Celebrate feminism and the strides towards equality that RB has implemented. In the cafeteria, there will be male high heel races. In addition, there will be announcements all day about influential women to celebrate during Women's History Month.
Thursday, March 19: RB as a global place.
Help the language clubs and Model UN celebrate RB and the diverse backgrounds people have. In the cafeteria, there will be the opportunity to participate in global trivia with your lunch table. Also, AST will be highlighting foods from other cultures.
Friday, March 20: We are RB
Deep down, we have common traits that make us similar, yet not the same. If you purchased a Tolerance Week t-shirt, you'll have the opportunity to show solidarity in the building and show your support of Tolerance Week 2015!
Students interested in helping out with this event can come to AST's Friday morning discussions, join a committee to help plan the event in its final weeks of planning, volunteer for the service project, and bring in monetary donations for the Ellis family.