Senior Goodbye: Renee Miedlar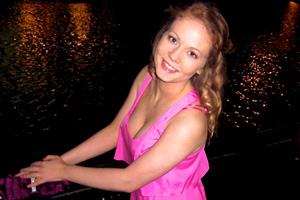 I honestly never thought that graduating high school would come this fast. Looking back at how much my life has evolved over the past 4 years, it's hard to pin point the moment when high school started to pass me by. At times it was so routine that the days started to blend together and it seemed out of the ordinary to be any where else besides high school. It might sound boring and repetitive to some, though at times it was, but the simplest things through out my time at RB will always be my most treasured memories. Laughing and being down right ridiculous with my friends and some of the teachers taught me that the only thing that I valued more then my academic career was being surrounded by people that made me happy and celebrated who I truly was. It showed me not to take everything so seriously, and that when it came down to it as long as I was happy with who I was then why would I value the opinions of others that tried to bring me down.
High school has basically been one life lesson after another for me. Struggling to find who you are while juggling the demands of classes, friends, and after school activities has taken its toll, but ultimately has showed me a lot about who I want to be as a person, and what I value the most in my life.
I was given a wide range of opportunities at RB that have helped me become the person that I am today, starting from my Freshman year. I had the great pleasure of being part of an incredible program called SEE Team, which made me realize that taking a step back from the modern world and resisting the "feed" was important not only to my own well being, but to the planet's. I'm more conscious of what I put into my body along with where it's coming from and how it's made. I also met some amazing people and had some of the best memories of my life; FEED Team forever baby!
I continued to grow when I joined the newspaper and I've had so much fun and have gained so much experience as a writer. It has given me my voice and I can't thank Daniel Mancoff and the staff enough for that. I also have been apart of the club AST since my Sophomore year, and it's taught me that I love giving back to the community and spending time at the British Homes has given me such joy. Seeing how absolutely thankful the residence are for our time, just reminds me how the little things in life are the most precious.
It's been a crazy, exciting, demanding, and life changing four years, but I wouldn't trade it for the world. I'm so grateful to all the wonderful people that I've meet over the past four years at RB and all the knowledge they have given me. I want to thank my mother for always supporting me every step of the way and my friends for getting me through this crazy time. You guys have always been there for me whenever I was lost and put me back together by showing me how valuable a person I really am. Showing me that we all need people in our lives that bring out the best in us. I can't express how much your friendships have meant to me and I love you guys with all my heart. Well there you have it folks, my senior goodbye.It's all coming to a close now, I'm ready to go, so thanks RB and farewell.