COLUMN: Chromebooks will not improve an already excellent education
Why spend the money if RB's education is already top notch?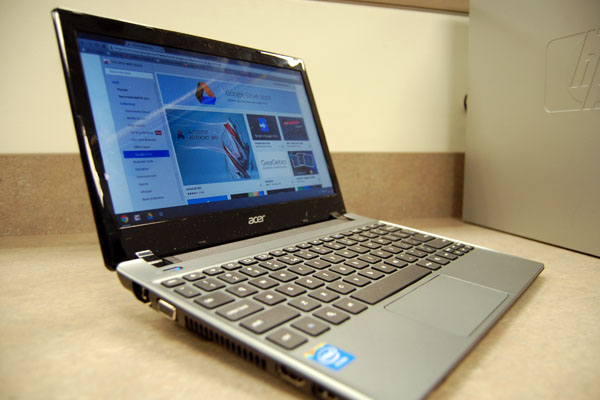 September 10, Assistant Principal Kristin Smetana and Technology Coordinator Mike Connors presented a three-year technology plan to the school board.  The plan included piloting Chromebooks with a small group of teachers this year, providing Chromebooks for all teachers in 2014-15, and then providing Chromebooks for the entire student body in 2015-16.
I feel that this plan should not be pursued.  It will interfere with the structure of education at RB.
When I first heard about this plan, I was immensely concerned.  First, if all goes according to plans, students would receive Chromebooks in my senior year.  How will having that technology help prepare me for college?  My younger sister recently arrived from Hauser Junior High School in District 96, which already has a one-to-one technology program with Apple products.  I have noticed that she rarely came home with homework and when she did, it always involved the laptop that the school provided her.  Now she has arrived at RB and she no longer has her own personal device and she is struggling and unprepared with hours of homework.  Who is to say that will not happen here?
Also, how will our curriculum be affected by all teachers having to teach students how to use these devices?  Will assignments begin to revolve around learning to use the Chromebook?  Is that what we want?
Keeping an open mind, I interviewed Smetana to get the other side of the story.
She said, "Having a Chromebook now will help you even if you do not have it in college.  It will help you because the skills and strategies you use on your Chromebook can be used on any computer."  Smetana also explained that there will not be a specific course on how to use the device, but instead teachers would help us if we were having trouble using it.
When I asked her why students would need a Chromebook when many already have their own devices, she said, "A lot of students may have access, but I find it is important for students to have their own device.  It is about being able to use the device in a classroom.  It will allow more collaboration between teachers and students."
While I walked in being completely against students having Chromebooks, what I found was that I really wanted the Chromebooks not to affect the lesson plans that teachers had laid out.  And if that's the case, why would we even bother spending the money on the devices in the first place?
Readers, whether or not you believe that all students receiving Chromebooks is a smart use of school funds, I urge you to contact the school board and let them know how you feel.