Top 5 bowl games to watch over break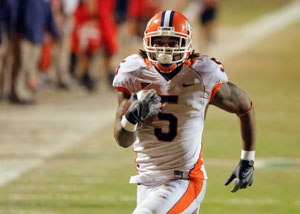 Like the system or hate it, college football's playoff system is very unique. With 35 college football bowl games this winter, it is nearly impossible to watch every single game. So to make it a little easier for the average Illinois college football fan, here are the top five bowl games to watch (not counting Oregon vs. Auburn in the National Championship).
5. Texas Bowl-Illinois vs. Baylor
Though the University of Illinois managed to make a bowl game, they have yet to achieve the success of the 2008 squad that lost in the Rose Bowl. They are just 6-6 and take on a 7-5 Baylor team that had an up-and-down season much like the Illini. The Bears were 7-2 at one point before losing their last three games.
Prediction: Illinois 37, Baylor 30
4. Maaco Bowl (Las Vegas) Utah vs. Boise State                                                                        When: 7:00 December 22, 2010      
Boise State's National Championship aspirations were ended after their kicker failed to convert two short field goals against Nevada. Now they settle for the Maaco Bowl against Utah, another quality non-BCS school. Utah enters the bowl with a 10-2 record with losses to just Notre Dame and #3 TCU. Expect Boise State to be fired up for this game, even though they fell well short of the National Championship.
Prediction: Boise State 41, Utah 20
3.  Hyundai Sun Bowl (El Paso, Texas) Notre Dame vs. Miami                                                                            When 1:00 December 31, 2010
A decade ago, a matchup between Miami and Notre Dame would have been the number one game to watch by far. Now, these two historic programs have to settle for a matchup in El Paso at the Sun Bowl. Both teams underachieved this year and finished with records of just 7-5. Miami quarterback and preseason Heisman candidate Jacory Harris struggled mightily for the Hurricanes this year.
Prediction: Miami 21, Notre Dame 20
2. Allstate Sugar Bowl (New Orleans)  Ohio State vs. Arkansas                                                                           When: 7:30 January 4, 2011
This BCS bowl features the 6th ranked Buckeyes vs the 8th ranked Razorbacks. Ohio State is 0-9 in their last nine bowl games against SEC teams, so this is definitely a streak that the Buckeyes want to end. Arkansas finished the regular season with 10-2 record and losses to then #1 Alabama and now #1 Auburn. Arkansas has proven that they can play with anyone, so Ohio State (11-1) needs to be ready.
Prediction: Ohio State 38, Arkansas 34
1. Rose Bowl (Pasadena, California) TCU vs. Wisconsin                                                                                          When: 4:00 January 1, 2011
This game will be an interesting matchup between #3 TCU and #5 Wisconsin that could have huge future implications. If TCU can beat the Badgers, it will prove that non-BCS teams like TCU or a Boise State can play with anyone and should deserve serious National Championship consideration. If TCU should win very convincingly (though unlikely), they could have a case for co-champions with the winner of the Auburn-Oregon game. TCU enters the game with an unblemished record and Wisconsin has just one loss. Wisconsin could end all of this talk by non-BCS schools (for now) with a win in the Rose Bowl. But TCU will be ready for the Badgers running attack.
Prediction: TCU 31, Wisconsin 24