Double heartbreak and an end of an era?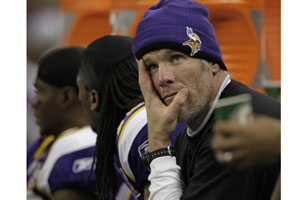 The Metrodome located in Minneapolis, Minnesota the home of the Minnesota Vikings suffered a roof collapse due heavy snow fall over the weekend. The roof's collapse forced the Sunday game between the Vikings and the New York Giants to be postponed and eventually rescheduled to play in Detroit's Ford Stadium the next day.
The NFL gave ticket holders of the game received priority tickets for the game in Detroit. However the Lions offered free tickets to the game for fans whom waited in line at 9 o'clock in the morning on Monday.
In other heartbreaking news for Minnesota fans the 41 year old legendary quarterback Brett Favre would sit out this game leaving Tarvaris Jackson to play.
The future hall of famer Favre snapped his record breaking streak of 297 games consecutively started for a quarterback Monday. Favre's streak dates all the way back in 1992 when he was still a Green Bay Packer.
 Farve was injured last week playing against the Buffalo Bills; Farve was sacked by rookie linebacker Arthur Moats. Favre's right shoulder was injured and he immediately left the game.
Favre's streak went through 19 seasons and included 24 playoff game appearances. He went to The Super Bowl twice: once winning in 1997 and lost in the previous year.
Minnesota would lose this game and most of all play-off hopes. The Giants defeated the Vikings 21-3 on Monday night.