Favorites fall in the Aussie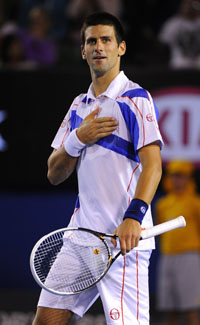 When you ask someone about professional tennis players the first two names that probably pop into their heads are Rafael Nadal and Roger Federer. Nadal is ranked first in the world and is known for his nine Grand Slam titles. Roger Federer is ranked number two next to Nadal and he is known for his 16 Grand Slam titles.
The starting date for the Australian Open was January 17th. Nadal was seeded first and Federer was second. Nadal made it to the Quarterfinals and Federer made it to the Semifinals. This mean neither of them made it to the championship.
Nadal lost to David Ferrer from Spain seeded seventh. Ferrer beat Nadal in three straight sets defeating him 6-4, 6-2, and 6-3. Nadal wasn't on his game and it could be blamed on his recent injury.
Federer lost to Novak Djokovic from Serbia seeded third. The match was fairly close, Djokovic defeating Federer 7-6, 7-5 and 6-4.
The Grand Slam final was held January 30th and it was an easy win for Djokovic, his second Australian Open title. Djokovic dominated Murray in three straight sets 6-4, 6-2, 6-3. This is the first Grand Slam event of the year and there are many more to come. Djokovic now has to potential and the momentum to take another title.