Cheerleaders one shy of advancing to Day Two at State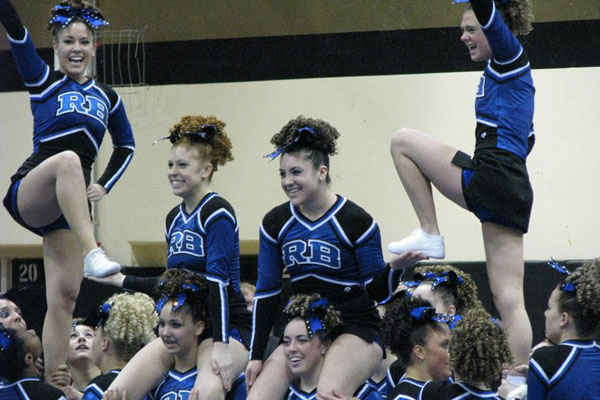 Seasons come and go, but the heart and dedication put in will last forever. This year our varsity cheerleaders finished 11th out of 88 possible teams at the state competition.  Even though they didn't reach their final goal, they did come first in sectionals. This is the first time cheerleading has ever placed first at sectionals.
Varsity cheerleader Hannah Likness said, "This season we had a couple bumps in the road, but we came out really strong, especially at state.  This year our team got very close and worked together because we all wanted the same thing."
Sectionals were held on January 29th and the cheerleaders came prepared.  After working hard all season, the cheerleaders' dedication paid off. This gave them a spot in competing at state and a chance for their overall goal. In state they placed 11th, just one place away from advancing to the second day of competition. Even though they didn't move on, they showed there spirit and good sportsmanship by cheering on the rest of the cheerleaders.
Senior Tyler Radek, who went along for the experience and cheered them on, said, "I thought it was awesome. As a football and baseball player, it was a different atmosphere and exciting to watch. It was intense."
Tierney Duffy said, "This year we had a lot to overcome, but we worked really hard and continued to push ourselves. The outcome at state might not have been what we wanted, but we had a lot of fun along the way."
Though their competitive cheerleading season is over, they are still cheering on the basketball players. They are having senior night February 22nd at a boy's basketball home game.