Knicks stun the Heat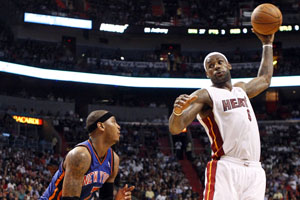 On February 27th the New York Knicks played the Miami Heat at South Beach. The fans of the Heat weren't expecting the end result.
The first quarter looked like practice for the Heat, who dropped 34 to the Knicks 23. After the first quarter, the Knicks played their A game in the second quarter scoring 29 and taking the lead at halftime by a three point buzzer beater by Bill Walker. The halftime score was 52-51.
The third quarter was short on scoring with the Knicks scoring 13 and having 65 points and the Heat scored 15 having 66 points. This quarter was more of a defensive quarter for both teams and its shown by the very low scoring.
The fourth quarter was the most crucial quarter of the game. The Knicks poured in 26 and Miami scored 20. The biggest plays of the game were Chauncey Billups's three pointer with one minute left in the game to take the lead by one. Also, with seven seconds left Amare Stoudemire blocked Lebron James's layup.
The final score was 91 to 86 for the Knicks. This game proved to everyone that the Knicks are very confident in their new and improved team. This game was a big defensive game for the Knicks by stopping the Heat. Their defense was so superb that while Miami's average points per game is 102, the Knicks stopped them at 86.