As season approaches, Cubs already in turmoil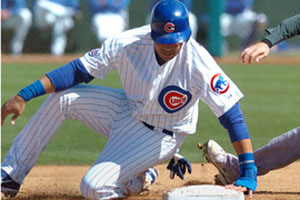 We are currently about three weeks from the beginning of the 2011 regular season, and it looks as if the Cubs are going to need every single one of those days in order to fully prepare themselves for the upcoming season. 
During the last couple months of the 2010 season and then this past off season, the Cubs have made several moves that have changed the face of the organization. Most notable of these changes are the new manager and first baseman.  In August of last season, when the Cubs were widely considered out of the playoff race, Lou Pinella announced his retirement.  Pinella managed the Cubs to back to back division titles in his first two seasons with the Cubs, including a 97 win team in his second year. However after those seasons the Cubs slumped back into their normal selves, and one and a half years later they were second to only Pittsburgh for the worst record in the NL central. 
Over the off season, the Cubs made the move to remove the interim tag from Mike Quade's title and make him the full time manager over Cubs hall of famer and fan favorite Ryan Sandberg.  Although this move upset the Cub faithful, the players seemed to be behind Quade, and were pulling for him to get the job.
In the first few weeks of spring training, Quade has already had to deal with what some managers only have to deal with once the entire summer.  In four days, the Cubs managed to make fourteen errors and looked like a little league team that was just beginning to learn how to pick up a ground ball. This awful stretch peaked when the Cubs made three errors in the first inning of a game against the Milwaukee Brewers that lead to six runs off Carlos Silva.  After this horrid inning was complete, Silva and third baseman Aramis Ramirez had a heated conversation in the dugout the eventually needed to be broken up by multiple players.
The second big move includes really two changes. Part one is the addition of a new possible ace in Matt Garza. Garza is coming over from the Tampa Bay Rays and should be able to dominate the NL central. Coming with him via free agency is Carlos Pena. Pena is a left-handed power hitting first baseman that will step in to replace fan favorite Derek Lee. Pena will be the first legitimate power hitting left-handed hitter for the Cubs since the early 2000's.
What ever happens this year it looks to be an interesting year in the NL central.