Team balance gives Sox a good start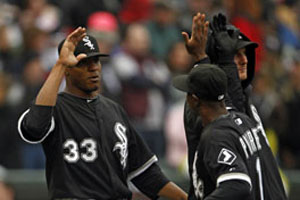 The 2011 MLB season started on Friday and the White Sox have played four games and are 2-2. To start the season they played the Cleveland Indians in a three game series. Taking two out of the three they are now in second in the Central Division. The Kansas City Royals are 4-1 and are in first, but the Sox play them today to end the two game series. The season is very young and anything can change very fast.
To start of the season the White Sox won 15-10 against the Indians. In the first five innings the Sox were winning 14-0. Not until the last innings the Indians started swinging. Mark Buehrle was the starting pitcher and he got the win. Adam Dunn and Carlos Quentin both homered. Dunn had 4 runs batted in and Quentin had 5. Other RBIs came from Konerko, Pierzynski, Ramirez, and Morel.
The second game was also a win against the Indians, 8-3. Overall everyone batted well, but the big bats were between Beckham, Dunn, Quentin. Quentin had a couple of doubles with two RBIs, and Beckham also had a couple of RBIs. The winning pitcher was Edwin Jackson.
The third game was a loss 7-1. The only RBI came from Konerko the whole game and Pierzynski hit the only extra base hit, a double. Danks had a so and so outing, giving up two earned runs in six innings. He got the loss, but it wasn't fully his fault. The pitchers after, Ohman and Humber gave up a combined five earned runs.
The fourth game was last night and it was a close game until the end. The game went into 12 innings and the Royals took the win with a late single. The final score was 6-5 for the Royals. In the first inning the Sox took the lead 4-0, but within the next two innings the Royals bounced back to tie the game. When Gavin Floyd was taken out of the game the Sox were up 6-4, but again the Royals bounced back.
On Thursday they had their home opener against the Tampa Bay Rays. Edwin Jackson took control and stuck out 13 through eight innings, giving up one earned run. The Sox won 5-1 in their first home game.
As of now the White Sox are looking pretty decent and the newly received slugger Adam Dunn is helping out. The Sox are now tied for first with the Royals and Indians in the Central Division. They have three more games against the Rays at home.