Girls' water polo focused on improvement with young team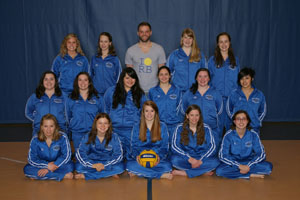 The Lady Bulldog water polo team is back with a lot of new faces for the 2011 season. After losing almost all starting players, the Bulldogs look to rebuild their team and fill spots with young talent.
Returning sophomore Ariel Moon said, "Considering that most of our team is new this year and has never played, we are playing pretty well. The new girls are learning quickly."
Senior Captains Tori Burris, Joanna Keen, and Liz Kartje return as the anchors of the team, and look to provide expertise to a majority freshmen and sophomore team.
Burris said, "We have had a rough start considering our we have an extremely young team. Hopefully as the season progresses everything will start to click."
The team has struggled this year competitively, although they recently won a game, and are showing improvement.
Moon said, "Our goal this year is to win as many games as possible, as well as progressing to the point where we make smart decisions in the water. Despite our tough start, however we are getting better with passing and decision making, which is leading us to more goals."
Burris added, "Everyone has been putting in more effort and trying harder. Hopefully we can start winning more games as we start to play better as a team."