Relay team leads boys' track in early going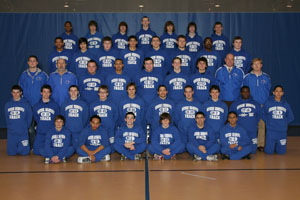 Last year, the boys track team had a very successful with several runners going down state. In particular, the 4 x 800 relay was one of the best in RB track's history. The relay team consisted of Alex Amaya, Keegan Buttimer, Peter Lyson, and Mark McDonagh and finished tenth in state. It would be easy to be happy with that result with only half of the relay team returning this year (Amaya and Buttimer), but Amaya is hoping for a better finish.
"This 4 x 800 relay team could be the best ever at RB. If we don't go to state, it would be a disappointment," said Amaya. 
Replacing McDonagh and Lyson are juniors Travis Treviso and Chris Dziagawa. It is evident that they are more than capable of filling in as the relay team broke the conference indoor record in the process at Glenbard South. They finished with a time of 8:50.10, which beat the second place finished by nearly ten seconds.
There are standouts for the Bulldogs in other events. Since the Glenbard South Invite, the Bulldogs have competed in meets at Lemont and in the Gary Johnson Bulldog Relays at RB. Jayson Kerber does the high jump for RB and was good enough for second at Glenbard South, and won the high jump at Lemont. Buttimer was also second in the individual 800 at Glenbard South.
Other individuals who should be strong this year include senior George Smith (200 meter) and junior John Kingzette.  The 4 x 400 should also be able to compete for first place in conference. Both Buttimer and Amaya are part of this relay and are able to run the quarter mile under 55 seconds. 
As for the team's chances, Amaya is optimistic. "We should have a good team overall, too, " he said.
At the first meet at Glenbard South, the team finished second to Glenbard South. Glenbard South had 199 points and RB finished with 85 points as six teams competed in the meet. At Lemont, the Bulldogs finished a modest fourth out of seventh team and they also had a good showing at the RB invite, despite several juniors missing to take the ACT. The Bulldogs finished fifth out of ten teams.
The team is coached by Tim Olson, Gary Johnson, Tim Brasic and Larry Forberg. The captains for the 2011 boys' track team are Amaya, Buttimer, Treviso, John Schraidt, and Joey Malone. Malone and Treviso are both juniors, while Amaya, Buttimer, and Schraidt are seniors.