Shamrocks shake the Bulldogs in three games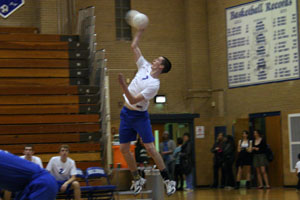 The Bulldog volleyballers wanted to forget about their first home game loss and focused on St. Patrick's high school at home on Thursday April 7th. Despite taking the first game, the Bulldogs lost the next two and took the loss.
It was an exciting match with a lot of back and forth action. Senior Mack Fiesler and Ben Bergstrom led the team with eight kills each throughout the match. Elliot Louthen had 25 assists in the match.
"I tihnk that we beat ourselves, especially with service errors making a big difference. There was a lot of chances for us to take the match, but our unforced errors hurt," said assistant coach Jenna Passanati. Over the whole match, the Bulldogs had over 12 service errors which are easy points given to the other team and a momentum killer most of the time.
The Bulldogs faced a 16-20 deficit in the first game and rallied to win it 23-25. The second game was a quick victory for the Shamrocks as they took it 17-25. As the third game went on, the Bulldogs were digging themselves into another hole as they were down 18-24 and brought the game to a 23-24 faceoff, where the referee called one of the Bulldogs on a foul for going under the net after the Bulldog spiked it for a kill. It was a controversial call to say the least. The Shamrocks would take the point and the match after that.
Taking a team to three games is disappointing when your team wins the first game.  Errors to the Bulldogs hurt them a lot. There was a lot of frustration that circulated through the team after a blocking error or a bad dig that costed them. But the season is still young and the Bulldogs can learn from this and when they play to their full potential, they can dominate any team they face.
For the upcoming practices, the Bulldogs will focus on serving and creating more offensive attack from more opportunities. Their next set of games will be at the Rolling Meadows Tournament where they will face tough competition including Maine East and Elk Grove High School to start off their round robin.