Fantasy Quidditch takes home gold in fantasy basketball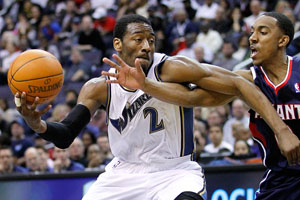 100%. That's my fantasy league winning percentage. It's only a minor detail that I've only been in one league.
This year, my team Fantasy Quidditch took home the gold, taking first place out of ten teams. I didn't have the best winning percentage, or the top seed, however when push came to shove, my team outperformed everyone else. I struggled with a few key injuries during the season, which contributed to a few of my losses, but with everyone healthy in the playoffs, Fantasy Quidditch proved hard to beat.
 After leading the East division despite a late comeback from Jason Flam and Hrvoje Zolo's team "Rajon Rondo," I surged into the playoffs defeating Charlie Morrisey's team "Westbrook? O no its weestbrook" five to four, and Nate Hanley's team "CP3." six to three for the championship.
Hanley, despite not being on Clarion 2nd semester, took earn second place despite a few key injuries throughout the season. Jon Stevanovich's team "Burger n Large Frye Please" took home third, despite having the best total stats on the season.
My lack of fantasy and basketball knowledge prevailed this year, and my first five picks, Stephen Curry, Paul Pierce, Kevin Garnett, Al Jefferson and John Wall powered my team to eleven wins, six losses, one draw, and one championship.
I wish all the Clarion staff best of luck next year in the competition, and hopefully someone uses my strategy of taking John Wall as early as possible.