Bulls enter as best team into postseaon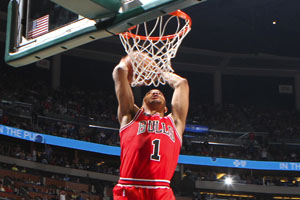 The Chicago Bulls in their last game of the regular season beat The New Jersey Nets 97-92 at home. Already having the first seed in the Eastern Conference this win didn't mean much against a lower tier team, but after this win Tom Thibodeau's Bulls claimed the best record in the NBA at 62-20.
Led by the leading unanimous MVP candidate and hometown hero Derrick Rose, The Bulls have yet to slow down after the all-star break with an impressive 24-4 record.
"The Chicago Bulls will beat the Indiana Pacers, no questions asked," Security guard Claude Cima said.
The Bulls start post season play this Saturday against conference rival Indiana Pacers at 12 pm on ESPN. The Pacers are highly unlikely to beat the red hot Bulls who are currently on a nine game winning streak; beating some of the Eastern Conferences premiere teams in the last month including: The Boston Celtics at home and The Orlando Magic and The New York Knicks on the road.