Bulls playoff run begins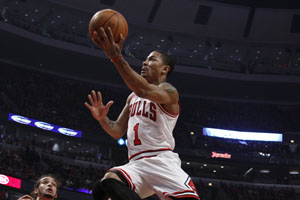 The NBA's best team during the regular season certainly waited 45 minutes into their first postseason game to show up. Derrick Rose's career playoff high 39 points helped lead the top seeded Bulls past the Indiana Pacers 104-99 late in game one of the best-of-seven conference quarterfinals series.
Danny Granger led Indiana with 24 points, while former University of North Carolina standout Tyler Hansbrough scored 22. The Pacers led the entire game until Rose found Kyle Korver who hit a wide open three-pointer with 48 seconds left to put the Bulls ahead 102-99.
It was a sloppy performance for the Bulls, while it may have been the best possible performance all year for the Pacers. The Bulls' tenacious defense didn't rise to the occasion until the final minutes of the game. Joakim Noah ended the game with two straight key blocks of Josh McRoberts, and the Bulls were able to pull out the victory against a scrappy underdog.
Bulls Head Coach Tom Thibodeau will have his gang ready to go for round two. Game two is tonight at 8:30 at the United Center.