View from the South Side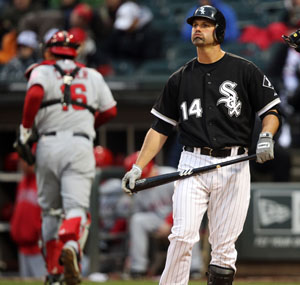 For the south siders, the last few games haven't gone as they would have hoped until their win last night. They are sub .500 right now and the recent losing streak doesn't help the team at all. Even though it's early, still the Sox need to get out of the little slump they are in.
One person who needs to start hitting is major off-season acquisition Adam Dunn. Dunn is hitting in the three spot as a DH, on the season Dunn is only hitting .162.  The Sox hope to see him pull through and hit like the old Adam Dun who hits homeruns and drives in runs.
In their latest loss, John Danks took the mound for the Sox and threw seven innings. In those seven innings Danks let up two runs and seven hits, but he  also had five strikeouts. Jessie Crain came into relieve him of his duties. He didn't allow a hit and had a strikeout.
But the big deal for the Sox right now is that, they need to start hitting. If they start to put the ball in play like many people know they can. They have power with Quentin, Konerko, Rios and Dunn.
If the Sox' bats start going, as their 9-2 win suggests they might, this dismal season could turn around.