You better BULLieve it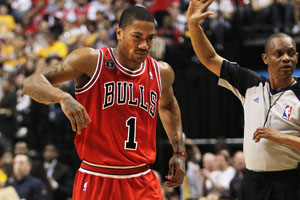 The Chicago Bulls are best remembered for the Michael Jordan era, but there is a chance to start a new one. The Bulls ended their season with a record of 62-20, the best in the NBA. They don't get as much credit as the Celtics or the Lakers, but that could be because they are recent champions. This could potentially be the year for the Bulls.
The regular season showed what the Bulls can do, but now it's the playoffs where it is do or die, so everyone steps up their game. The Bulls started the playoffs in a pretty nice way, playing the Indiana Pacers in the first round.
The first game was on Saturday, April 16th and the Bulls started off slow. Towards the end of the game they stepped it up while trailing the Pacers all game and pulled off the victory. The second game on Monday, April 18th the Bulls again were trailing, but picked it up much faster than the first game.
The Bulls eventually finished the series in five games, despite a minor tweaked ankle for star Derrick Rose.  They have moved on to face the Atlanta Hawks, and are now down 0-1 in the series, pending tonight's result.
As the playoffs have developed, the Bulls have hauled in major season awards.  Coach Tom Thibodeau won Coach of the Year honors earlier this week.  Yesterday, Rose took home the NBA MVP trophy.   Derrick Rose has been on fire this whole season and he won the award by a large margin. In his first two playoff games, Rose had 39 and 36 points.  This isn't a one game thing because Rose's average per game during the season was about 25 points. Not only can this be the Bulls year, it can also be Rose's year.
Senior Jimmy Capone said, " They have a chance to come out the East, but Boozer has to play like the All Star Veteran he is and they have to step up their defense as a team. I do believe though!"
The Bulls are a legitimate team this year and can win the championship. Chicago wants Rose and the team to bring the championship back home for the first time since 1998 in the Jordan era. Chicago BULLieves in the Bulls and will support them throughout the playoffs.