Boys' soccer gaining momentum heading into playoffs
Beltran suffers injury against Fenton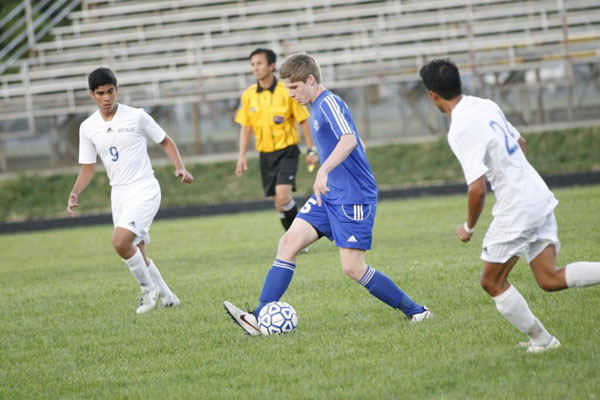 The boys' soccer team has turned their level of play up during conference play and has started racking up five wins including two tough non-conference wins against University and Proviso West.
"Were starting to pick up momentum late in the season," senior Joe Aieta said.
The Bulldogs are getting hot at the right time as the post season nears. "The goal is to win a regional championship," senior Quentin Drelich said.
The Dogs hope they can finish second in conference as they try to improve on their 3-2 conference standing. With Glenbard South still on the schedule, the team is practicing really hard to get ready for Thursdays showdown. The Bulldogs also still have neighboring rival, and highly ranked Morton, to finish the season up before the playoffs. The Bulldogs look to try and get a higher seed in the sectional and get some quality wins in the last two weeks of the season.
Star player Santi Beltran suffered a lower body injury against Fenton and is likely to miss some time. "We have to come together even more as a team and try to make up for his loss while he is gone," Aieta said.
Aieta who is looking to try and play at the college level even though has been battling a ankle injury lately. Joe looks to step up and lead the Bulldogs scoring attack into the playoffs.