Girls' soccer kicks things into high gear as playoffs approach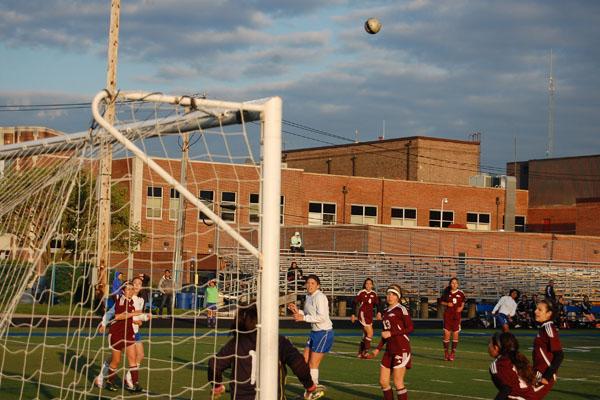 With the playoffs just around the corner, the girls' soccer team is looking to whip things into shape. After a poor 1-4 start, the Bulldogs have turned things around and are now at 6-9-1. More remarkably, however, the Dogs are now 4-2 in conference. With key wins over Ridgewood and Timothy Christian the Bulldogs have turned things around. Although they did fall to conference nemesises Glenbard South and, most recently Illiana Christian, the Bulldogs are still optimistic they can do great things in the playoffs. Over their last 10 games the Bulldogs are 5-4-1, that's a vast improvement from earlier in the year. The Bulldogs wrapped up their regular season with two losses including a 7-0 throttling at the hands of the incredibly talented Hinsdale South team, and prior to that a hard fought senior night loss to cross town rival Morton.
"All in all I'm completely satisfied with how we did," said senior leader Lia Sanchez of the loss to Morton, "We dominated most of the game, [but] they just snuck in a final goal there at the end. I'm so proud of our girls and the effort we put forth tonight."
At the end of the day however, the Bulldogs face a bleak reality: Their last game, unless they win a state title, will be a loss. Rather than focusing solely on wins and losses, many of the veteran girls have been focusing more on the little things. Senior Caroline Waas said," Because I'm a senior it's less about soccer and more about the people now. I'll miss soccer, but more than that I'll miss the coach and my teammates, because 20 years from now I'm not going to remember our final record, I'm going to remember the relationships, and bonds I've made with my teammates. That's the main thing I've taken out of this season."
Win or lose, the girls' soccer team stands together, although a regional championship would be great, it will not define them.