If you can't play pleasant, play lacrosse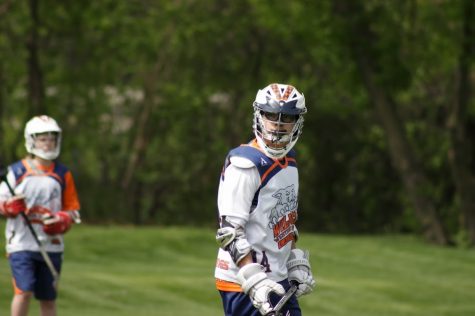 Samuel Styler is a para-professional and one of the lacrosse coaches. Styler has coached RB football in the fall. This will be his first year coaching lacrosse. Styler has never had a competitive lacrosse experience before.
"Growing up, a bunch of my friends played the sport, so I tagged along and I would play catch and whatnot with them, but I've never played an organized game of lacrosse before," said Styler.
Styler is excited to be part of RB's very first lacrosse team. He grew up playing baseball and football, and he picked lacrosse so he could improve his skills along with the players.
"We have good sport teams at RB, and such great clubs that students can be part of, so being able to coach a brand new club is an experience," said Styler. "All of the athletes at RB are great kids, and it's a pleasure being able to work with them."
Many people considere lacrosse to be a dangerous sport. The skills include defending, attacking, catching, shooting and many other skills. You need to be very fast; anything could go wrong, such as head injuries, knee and ankle sprains, concussions, and wrist fractures.
"Lacrosse is a dangerous sport, but the more you worry, the less fun you're going to have," said sophomore Cali Carlson, a new player on the girls' lacrosse team.
"The game of lacrosse for boys and girls has seen a large amount of growth in the midwest over the past decade and is considered the fastest growing sport in the U.S," said Laura Durkin, one of the RB parents who sponsored and helped organized the club.
The RBHS lacrosse club was started and organized by junior Jacob Spinello and senior Dylan Gryczan. RB students Lane Feary, Max Brand and Aidan Raegan have also played a big role in advancing the club.
"I was a bit disappointed that RB did not have a lacrosse team. So I found out there were a few others who wanted to add a team as well. I got in touch with Jacob Spinello and a few others who wanted a program," said freshman Aidan Raegan.
"A group of parents of current and future RB students got together to support the students who wanted to start a lacrosse team this year. After a few RB students gathered signatures of potential players to confirm broad interest, we formed a student and parent board to launch the lacrosse club. We've had tremendous support from Mr. Mannon, students, and parents to get the club up and running for this spring season," said Durkin.
The mission of the club is to grow the game by introducing the sport to new players. Next spring, the lacrosse team will be a fully IHSA-sanctioned team with playoff and state championship games. There are different lacrosse teams for boys and girls.
"My favorite thing about the team is that everyone is willing to cooperate and work together. In lacrosse, people need to communicate and rely on each other," said Regan.