Gymnastics having best season so far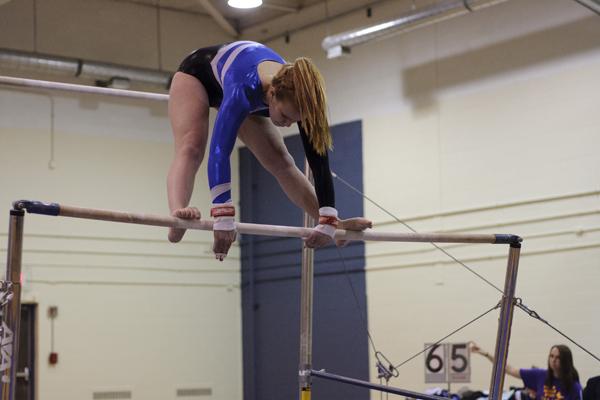 Girls' gymnastics has been going strong this year, with new coach Tom Sisulak, returning coach Carrie Kozak, and many new members contributing to the team's success.
In their first meet against Morton, they won with a team score of 108.6, with high scores made by sophomore Rachel Decosola on vault, senior Jackie LaManna on bars, junior Kristen Santoro on beam, and sophomore Ariel Moon on floor.
The next two meets against Geneva and Hinsdale South were close, but the team fell short to both schools. Although the team didn't take a victory against Hinsdale South, many girls made personal best scores on their events and used new routines. Sophomore Christine Dinh competed for varsity on floor for the first time and scored a 7.15, and senior Ellie Hutcheson scored a 7.55, her highest score ever.
At the Maine East Beach Meet, the girls could use their creative sides and perform routines together. Santoro and senior Emily Cain performed a beam routine together to Marry Me and won the Most Creative award. Santoro, LaManna, Cain, and Moon performed a floor routine to Woka Woka and won the Best Teamwork award.
The Tri-Meet against Oswego and Dekalb ended in the team score of 119.05. All the girls continued to work hard and add to their routines.
"Our team scores have improved at every meet so far this year, which is awesome. We are expecting to continue this improvement with the competitions we have left in the season," said Santoro.
The team doesn't have any captains, but Moon and Santoro both said that Cain and Markowski take leadership roles on the team.
"Our coach isn't always there breathing down our necks, so I have to make sure everyone stays motivated and stays in task," said Markowski.