Cheerleading: beyond the sideline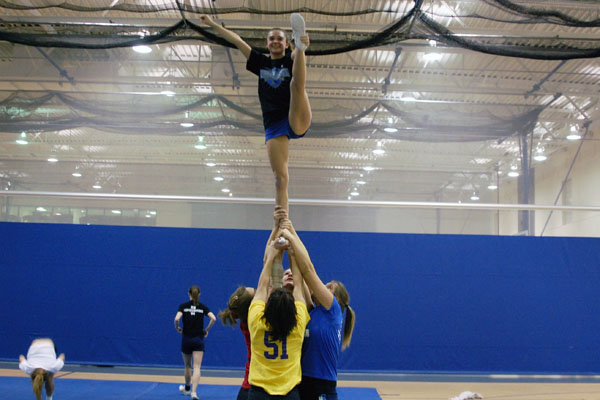 Sideline cheers and half time performances are what most people see from the RB cheerleaders.  But what most people don't know is the hard dedicated work they put in every day for their competitions. They practice five days a week for two hours as they strive for perfection. Their motto is to focus on details, and with a great run last year, placing second in state, they hope to repeat the success and even get first.
Senior and co- cheer captain Maeve Cloherty said, "Even though we don't have the same group of girls from last year, we still have a strong group and think we can go far."
They have already had one completion placing third in the Rolling Meadows invitational. With the 24th of January as conference and sectionals January 29th, the chase for state is coming quick. It is so quick it will be state on February 4th, less than a week after sectionals.
Senior Kristie Cassano, with total confidence in her team, said, "New team, but a ton of new potential. I can't wait to see how we do at state."
With co-head coaches Elyse Presta and Nickie Benson and the help of coach Beth Michiels and volunteer Chris Borzym pushing them hard and teaching them all the right moves, they're in great shape to go far.
Benson, "We have really high hopes for both JV and Varsity teams this year. Not only do they have the skills but the determination to succeed. We hope that that we see a lot of friendly RB faces in the crowd for both conference and sectionals! Come cheer on the Cheerleaders!" 
On the 28th of February at RB's varsity boy's basketball game, they will show a sneak peek of their sectionals performance after the game.